Flexible OLED display that is used for Galaxy Note 8 broke previous record of DisplayMate's evaluation on quality of displays and received DisplayMate's best score ever of 'Excellent A+'.
DisplayMate made results of its evaluation public on the 28th (U.S. time). Flexible OLED display of Galaxy Note 8 surpasses performance of displays of Galaxy S8 and previous Galaxy Note series in major evaluation items such as brightness, outdoor visibility, and color reproduction ability and raised the bar for standards of best display once again.
6.3-inch flexible OLED display implements maximum brightness of 1,240cd/m2 (Candela), which is the first time for displays that are used for Smartphones. Its maximum brightness is 22% brighter than Galaxy S8's maximum brightness at 1,020cd/m2. 1,240cd/m2 (Candela) indicates the brightness from lighting 1,240 candles at the same time inside of a box with area of 1m2.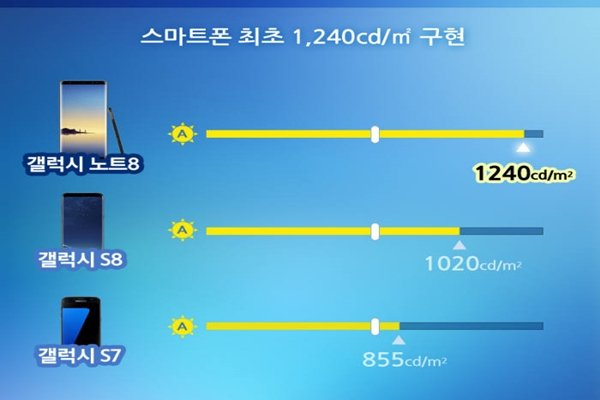 Galaxy Note 8 is the first Note series to implement 3K QHD+ (2,960x1,440) resolution and it raised degree of clear quality by one step higher as the highest resolution for previous Note series was 2.5K QHD (2,560x1,440).
Galaxy Note 8 received 'Mobile HDR Premium' certification, which is given by high-definition display standard certification company called UHD Alliance to a device that is able to show high-quality HDR (High Dynamic Range) images.
"Galaxy Note 8 can implement high brightness, perfect black screen, and infinite contrast range and is the best Smartphone to enjoy high-quality movies or computer graphics as it satisfies even DCI-P3 (Digital Cinema Initiative), which is the international color standard for latest digital cinemas." said DigitalMate.
Staff Reporter Bae, Okjin | withok@etnews.com