Samsung Electronics started marketing for 'Galaxy Note 8' in South Korea and the U.S. Expectations for its popularity are rising as consumers are continuously visiting cellphone stores in South Korea and the U.S.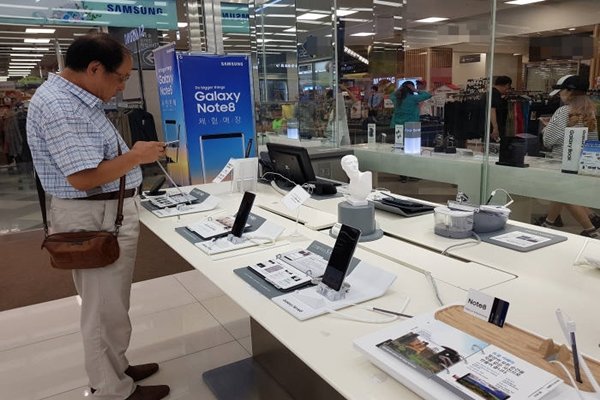 ■400 to 500 Cases of Pre-Applications for Galaxy Note 8 on Daily Average Per Store
Release date of Galaxy Note 8 is the 15th of September. Samsung Electronics and three South Korean mobile network providers are going to start activation for consumers who preordered Galaxy Note 8 from the 15th until the 20th of September as they expect there will be many potential demands for Galaxy Note 8 due to discontinuation of Galaxy Note 7. Consumers who did not preordered Galaxy Note 8 will be able to activate it after the 21st.
Samsung Electronics is going to release 64GB and 256GB Galaxy Note 8 models first in South Korea. It included plastic transparent case as part of components that come with a box for Galaxy Note 8 that will be released in South Korea for the first time. In case for the U.S., people have to purchase separate cases for Galaxy Note 8s. Samsung Electronics applied requests from South Korean consumers who wanted a case that does not cover design while it protects the phone from crack.
"We started taking pre-application for Galaxy Note 8 starting from the 24th before the official preorder date, which is the 7th of September, and there have been 400 to 500 cases of pre-applications on daily average based on customers who filled out necessary documents." said a representative for Samsung Digital Plaza in Hongdae. "This is the hottest reaction for Galaxy Note series ever."
"If a customer just write his or her name and contact number, he or she will be able to receive Galaxy Note 8 on the day it is released based on an order of membership by subscription." said a representative for LG Uplus direct management store. "We are going to notify our customers by texts when price and free gifts are decided."
"Because selective contract discount ratio for Galaxy Note 8 is going to increase from 20% to 25% on the 15th of September, it will be more effective for consumers to wait until the 15th if it is not urgent." said a representative for an authorized KT retail store.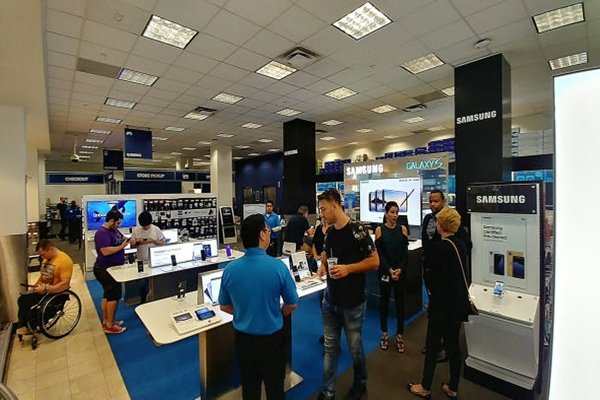 ■Customers Continue to Visit Electronic Stores to Experience 'Galaxy Note 8'
Interests towards Galaxy Note 8 are also high in the U.S. where it was launched by Samsung Electronics. Part of New York Time Square was covered with advertisements for Galaxy Note 8 while electronic stores such as Best Buys were filled with customers who were looking for Galaxy Note 8.
Samsung Electronics is also going to release 64GB Galaxy Note 8 model in the U.S. Price of Galaxy Note 8 is going to be different based on mobile network providers and electronic stores. Verizon and Sprint, AT&T, and T-Mobile and Best Buy (Unlock phone) are going to sell Galaxy Note 8 at $960, $949.99, and $930 respectively. However actual price is going to be more than $1,000 since these amounts do not include any sales taxes.
Samsung Electronics is going to give out wireless charger, Gear 360 (2017), or 128GB micro SD card to people who preorder Galaxy Note 8. Customers who returned their Galaxy Note 8s are going to receive $425 of discount if they purchase Galaxy Note 8. Best Buy put out '$150 discount' as a benefit for people who preorder Galaxy Note 8s.
"Customer reactions towards Galaxy Note 8 are very fast as four people preordered Galaxy Note 8s in just one hour removed from launching of Galaxy Note 8." said a representative for a Best Buy store in Manhattan. "Most of customers who tested out Galaxy Note 8s showed most of their interests towards dual-camera's live focus, functions of S Pen, and midnight black color."
Staff Reporter Choi, Jaepil | jpchoi@etnews.com