Samsung Electronics launched Galaxy Note 8 and declared opening of a 'new mobile life generation'.
While reconfirming pride of a business with large-screen Smartphones (phablets) based on its overwhelming technical skills, it is also confident in providing new experiences to Galaxy Note 8 users.
Samsung Electronics announced perfect resurrection of Galaxy Note series by upgrading Galaxy Smartphone's own strong performance by one step and applying world's first technologies to Galaxy Note 8 at the same time.
Samsung Electronics held 'Samsung Galaxy Unpack 2017' at Park Avenue Armory in New York on the 23rd (U.S. time) and launched Galaxy Note 8. 1,500 global medias and partners attended this event.
"Galaxy Note 8 that is equipped with evolved S Pen, Infinity display, and powerful dual-camera will make things that seemed impossible by Smartphones possible." said President Ko Dong-jin of Samsung Electronics Wireless Business Department.
Galaxy Note 8 is equipped with 6.3-inch QHD+Infinity display which is the biggest screen out of all Galaxy Note series. Its 18:9 screen supports optimal grip and smooth visual beauty. Galaxy Note 8 has luxurious Smartphone image through its bezel-less design and has evolved multitasking function that performs many applications at the same time.
Dual-camera is equipped with Galaxy Note 8 and is composed of 12MP optical and telephoto lenses. These two lenses are applied with OIS (Optical Image Stabilization), which is the first time in the world. Telephoto lenses support optical 2X zoom and digital 10X zoom. Dual-camera focuses on a camera's natural function of 'taking wide pictures from far away'.
Samsung Electronics is confident that its Galaxy Note 8 has the best camera out of all Smartphones that are currently on the markets even though it is not the first time dual-camera is equipped with a Smartphone, but its intention is to provide world's best Smartphone camera experiences.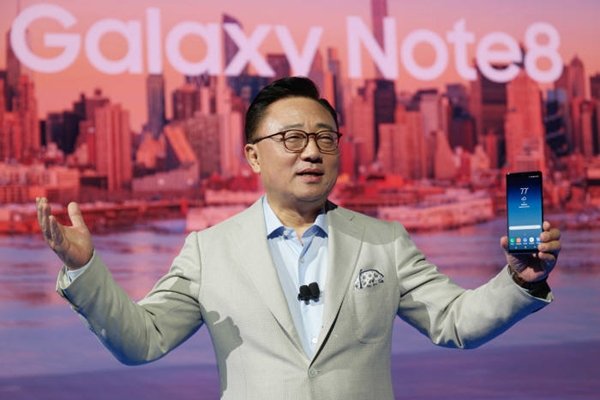 Galaxy Note 8 is basically the spearhead for Samsung Electronics in introducing its AI (Artificial Intelligence) voice assistant called Bixby to global markets. Although Samsung Electronics applied Galaxy S8, which was released in April, with Bixby for the first time, it was only available in South Korea and the U.S. Bixby Voice that is installed within Galaxy Note 8 (including Galaxy S8) is provided through English and Korean in 200 countries worldwide. It is expected to be an 'AI assistant that understands words and languages better'.
'S Pen', which is the trademark of Galaxy Note series, will play a role of a 'hub' that connects Smartphones with UX (User Experience). S Pen, which has a diameter of 0.7mm at the tip, has its pen pressure divided into 4,096 steps and provides natural sense of writing that is identical to an actual pen. It can also be used in wet environments as Galaxy Note 8 and S Pen are water and dust resistant with IP68 certification.
S Pen now can translate words and sentences that are written in foreign languages and is able to translate 71 words in the world. It is also able to show exchange rate or convert a unit to a different unit when one puts S Pen near amount of money or length or weight. It can also make instant messages that last 15 seconds and are composed of words, pictures, and special effects that are written or drawn through S Pen.
It also has strong security as it protects privacy of users through most advanced security technologies such as fingerprint recognition, iris recognition, and face recognition.
Galaxy Note 8 will be released in South Korea on the 15th of September as 64GB Galaxy Note 8 and 256GB Galaxy Note 8. Their prices are expected be around $797.66 (900,000 KRW) and $974.92 (1.1 million KRW) respectively.
Colors of Galaxy Note 8 will be midnight black, orchid gray, maple gold, and deep sea blue. However maple gold color will not be available in South Korea.
Staff Reporter Choi, Jaepil | jpchoi@etnews.com