NAVER officially released its IVI (In-Vehicle Infotainment) platform called 'AWAY' and started its connected car business by applying this platform to cars owned by a car sharing company called 'Green Car'. Related markets are expected to be worth $123 billion (140 trillion KRW) in 2019.
NAVER announced on the 17th that its research subsidiary called 'NAVER LABS' will be introducing IVI platform called 'AWAY', which is optimized for personal environment within a car, and head unit display-type hardware that is applied with 'AWAY' through Green Car. It has been 5 months since NAVER introduced a prototype of 'AWAY' at '2017 Seoul Motor Show' that took place this past March. NAVER is going to install 'AWAY' to 1,000 cars owned by Green Car sequentially and is going to install 'AWAY' to 3,000 cars in the future.
AWAY is based on NAVER's login and can be used as a Smartphone. People who use Green Car's business can receive navigation right away through destinations that were already saved by logging into NAVER. Music that they chose through NAVER MUSIC can also be played through car speakers.
AWAY provides audio-centered contents such as AWAY's own navigation, NAVER Music, audio clip, and sports radio. It is linked with NAVER's local information (Point of Interests) and has higher accuracy in recognizing a voice that is trying to search destinations such as popular restaurants.
NAVER had focused on designing AWAY so that it minimizes distractions for drivers. It provides an interface that allows drivers to safely and easily use necessary information or services while not being distracted. Important information is shown through two screens at the same time through an optimized method. It is also applied with functions such as 'Echo Driving' that analyzes driving patterns of a driver, extension on return, and mock calculation of fees on driving that are specialized for car sharing.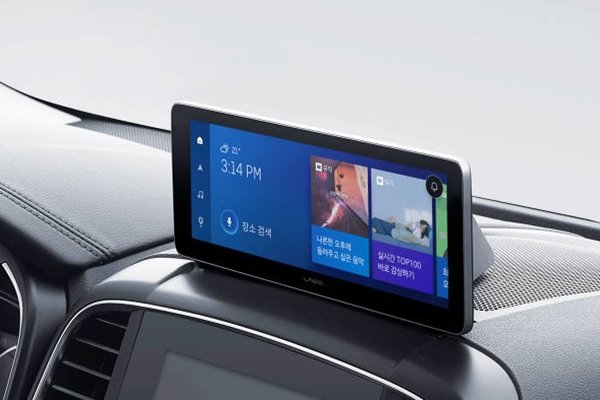 By considering environments where drivers can safely use information such as media and navigation while driving safely, NAVER LABS designed and manufactured this platform as a 'head unit display' with screen ratio of 24 to 9 and installed it to cars owned by Green Car.
NAVER has jumped into connected car business on full-scale by releasing AWAY. Connected car markets have emerged as battlegrounds for global IT businesses such as Google, Apple, and Baidu and are growing at a fast rate. It is expected that connected cars will eventually play a role of a Smartphone by connecting every objects such as office and home in the future.
Market research company called Bloomberg Intelligence is estimating that 75% of cars that are going to be produced` in 2020 (92 million) will be connected cars. American market research company called Transparency Market Research is estimating that global connected markets will be worth $123 billion (140 trillion KRW) in 2019.
NAVER LABS is going to expand contents of AWAY by working with variety of partners. It is expected that AWAY will eventually become a platform that provides services after quickly understanding intentions of users such as recognizing schedules that are registered on a calendar and providing guidance and navigations for destinations and restaurants and reserving a space at a parking lot like an assistant.
"Green Car will be able to provide more enjoyable and convenient services thanks to an AI (Artificial Intelligence) assistant service called AWAY." said CEO Kim Joa-il of Green Car. "Starting with connected car service, we are going to continuously prepare for development of future generation of Smart Car."
"NAVER LABS research into technologies that increase value of lives within areas where there are movements by deeply understanding spaces and environments that surround users." said CEO Song Chang-hyeon of NAVER LABS who is also the CTO. "AWAY is a result of efforts that are made in order to make valuable and safe lives by understanding spaces within a car and where a driver is going."
Staff Reporter Oh, Daeseok | ods@etnews.com