Industries are beginning to see which 'SLP (Substrate Like PCB)' manufacturers are planning to supply SLPs to Samsung Electronics for its next strategic Smartphone called 'Galaxy S9 (tentative name)'. SLP is a next-generation main board that is applied with semiconductor package technology and this is the first time Samsung Electronics is introducing SLP to its Smartphones. Because Samsung Electronics is planning to use a new part that was not used before for its previous Smartphones, industries are paying careful attention towards SLP as an issue that will bring changes to main board markets for Smartphones.
According to industries on the 16th, it is confirmed that Daeduck GDS and ISU Petasys made investments in order to supply SLPs to Samsung Electronics. Daeduck GDS and ISU Petasys invested $17.6 million (20.0 billion KRW) and $14.5 million (16.5 billion KRW) respectively. Both companies finished ordered equipment that are necessary to manufacture SLPs and are planning to finish installation by this September or October.
Maximization of use of space of Smartphone has become very important recently. It is necessary to have Smartphones applied with high-tech specifications while they last longer from increase in battery capacity. This indicates that main boards of Smartphones need to be made smaller in order to mount high-performance parts and SLP is seen as a part that will satisfy this need.
SLP is an advanced form of HDI (High Density Interconnection) that is currently being used often as a main board for a Smartphone. It is heard that SLP has more number of layers while it is reduced in size and width as it applies semiconductor package technology to current HDI. Industries explain that this characteristic allows SLP to support high-tech specifications despite its small size.
It is heard that Samsung Electronics noticed importance of SLP and started taking actions on full-scale since end of last year and that it discussed with PCB manufacturers regarding production in detail early this year.
Facility and equipment investments made by PCB manufacturers during second half of this year surpassed planning stage for introduction of SLP and entered actual execution stage. SLPs can be used for Smartphones that will be released next year once these manufacturers finish establishing mass-production lines by end of this year.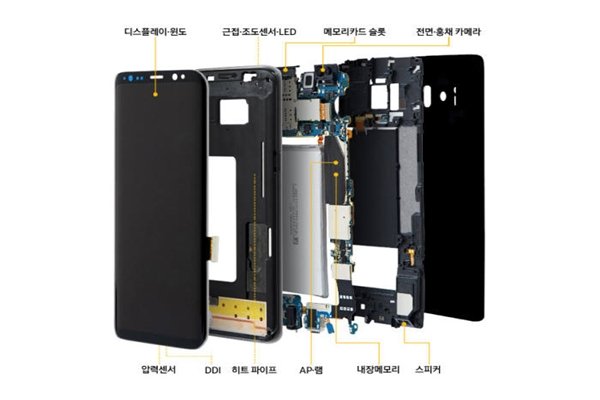 "Because SLP is a new product that is applied with semiconductor technologies, we have made significant amount of preparation such as hiring more employees." said a representative for a PCB manufacturer.
Besides Daeduck GDS and ISU Petasys, Samsung Electro-Mechanics Co., Ltd. is also preparing to supply SLPs to Samsung Electronics. Samsung Electro-Mechanics Co., Ltd. announced during its conference call for second quarter's performance that took place last month that it will establish mass-production lines for next-generation boards by end of this year. It indirectly hinted its decision to invest into SLP and its goal is also to supply SLPs to Samsung Electronics for Galaxy S9. It is predicted that Samsung Electro-Mechanics Co., Ltd. will be able to supply significant amount of SLPs to Samsung Electronics since it has a close relationship with Samsung Electronics. However whether or not a company is able to supply SLPs to Samsung Electronics and how much it is able to supply will be determined based on quality, yield, and price.
Industries believe that another South Korean PCB manufacturer and a Japanese company are also planning to supply SLPs to Samsung Electronics. However detailed information regarding their investments has not been confirmed yet.
Reason why industries are paying so much attention towards Samsung Electronics' decision is because it has huge impact on many industries. Samsung Electronics is the world's biggest Smartphone manufacturer that sells about 400 million Smartphones in single year. Introduction of new technology and changes in strategies made by Samsung Electronics are causes that will change dynamics of current markets. Although this will be an opportunity for a company that can produce and supply SLPs, it can be a disaster for those companies that are not able to produce SLPs. "This is the reason why we are investing into SLP since we may lose an opportunity to supply our products to Samsung Electronics." said a representative for a company.
It is heard that Samsung Electronics is planning to use SLP starting from Galaxy S9 model that is equipped with its own application processor called 'Exynos'. It is heard that Galaxy S9 model equipped with Qualcomm's application processor will have HDI instead of SLP due to difference in technologies. However it is likely that Samsung Electronics will start to use SLP for its other Smartphones once initial phase of introduction of SLP is over.
Staff Reporter Yun, Keonil | benyun@etnews.com