Samsung Electronics started reducing prices of its QLED TVs in North American market not just to increase market shares through reduction of prices but also to keep expansion of OLED TVs in check. If its strategy is applied to other countries, there is a chance that entire prices of QLED TVs might get reduced.
According to industries on the 27th, Amazon and BestBuy reduced price of 55-inch QLED TV to $1,997 which is about $800 cheaper than before. They also reduced prices of 65-inch and 75-inch QLED TV by $1,200 and $1,500 respectively to $2,797 and $4,497 respectively. This is about 30% reduction of price on average compared to their initial prices and it is cheaper than LG Electronics' OLED TVs.
It seems that Samsung Electronics decided to lower prices of QLED TVs in order to increase its sales volume of QLED TVs in North American market. Samsung Electronics set up super-high-priced premium home appliances in North American markets at the beginning of this year and it also released large QLED TVs in order to target premium markets. However sales volumes of QLED TVs did not meet its expectations. It attempted to change its policies on prices of its products as TV manufacturers started to put their products on sales due to Independence Day. While TV manufacturers lower their inventories by greatly lowering prices of their TVs at the end of a year, Samsung Electronics lowered prices of its TVs earlier than usual in order to recover its sales and market shares. "We adjusted prices of our QLED TVs so that more consumers can experience them." said a representative for Samsung Electronics.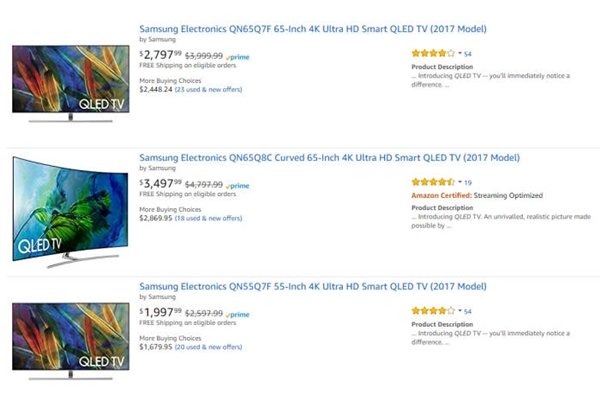 Another reason why Samsung Electronics lowered prices of its QLED TVs is because it wants to keep expansion of OLED TVs in check. According to Consumer Report, LG Electronics' 65-inch OLED TV received 89 points which is the highest point ever from Consumer Report. Actually 8 of LG Electronics' models are placed at the top 10 based on Consumer Report's points. SONY's OLED TV is also receiving popularity in North American market as it was placed second on evaluation done by Consumer Report. "LG Electronics and SONY are also constantly lowering prices of their TVs in order to recover competitive edge in price from North American market." said a representative of an industry. "Samsung Electronics adjusted prices of its QLED TVs in order to have fierce competitions against OLED TV manufacturers."
Some predict that reduction of prices of QLED TVs will have effect on entirety of Samsung Electronics' TVs. There is a high chance that adjustment in prices of expensive products will lead to reduction of prices of inexpensive products. It is difficult to increase prices again once they are lowered until new products are released. It is highly likely that reduction of Samsung Electronics' TVs will impact prices of TVs from other TV manufacturers including LG Electronics and SONY.
It is also interesting to see whether or not adjustment in prices in North American market will lead to changes in prices in other countries. As North American market is seen as the biggest TV market in the world, it is also used as some type of 'index'. Possibility of reduction of prices in other countries such as South Korea cannot be ignored either.
"Currently we decided to lower prices of our TVs only in North American market." said a representative for Samsung Electronics regarding this issue. "We are currently not looking to adjust prices of our TVs in other countries."
Staff Reporter Kwon, Dongjoon | djkwon@etnews.com