LG Display is planning to invest $15.2 billion (17 trillion KRW) until 2020 in order to promote 10.5th generation OLED, 8th generation OLED, and 6th generation OLED at the same time. Its strategy is to widen its gap from other competitors in global markets for TV OLED, where LG Display is the top business, and to quickly shorten the gap between itself and leading businesses in global markets for Smartphone OLED. In order to expand OLED TV markets globally, it is also planning to construct new 8.5th generation line by working with Guangzhou Government.
LG Display held a board of directors meeting on the 25th and passed an item that states that LG Display will carry out up-front investment of $2.51 billion (2.8 trillion KRW) into 10.5th generation OLED and additional investment of $4.48 billion (5 trillion KRW) into small and medium flexible OLED in total of $6.99 billion (7.8 trillion KRW).
LG Display is also going to construct a joint-corporation with city of Guangzhou in order to expand its production capacity of 8th generation OLED. Board of directors resolved to invest $1.61 billion (1.8 trillion KRW), which is 70% of total capital of $2.33 billion (2.6 trillion KRW) at this meeting. When South Korean Government officially approves this investment, it is going to start making investment into Guangzhou, China.
Industries are predicting that LG Display will invest at least $22.4 billion (25 trillion KRW) just into 7-story P10 plant in Paju. It is estimated that LG Display will make total investment of $26.9 billion (30 trillion KRW) when investment for joint-corporation in China and additional investments for E5 and E6, which are small and medium flexible OLED production lines, are added.
LG Display is going to convert its cash cow from LCD to OLED on full-scale by investing into large and small and medium OLEDs extensively.
LG Display announced that it is planning to invest about $4.48 billion (5 trillion KRW) into large OLED which includes up-front investment for 10.5th generation OLED that will be produced from P10 plant, construction of P10 plant, and investments for 8th generation E4-2. It is going to first invest into LCD with a goal of producing 10.5th generation OLEDs in the future. Since this is the world's first attempt for 10.5th generation OLED, its goal is to gain experiences in 10.5th generation technologies rather than expanding production of super-large LCDs.
Actually LG Display recently started constructing backplane with 10.5th generation oxide TFT (Thin-Film Transistor). Because there are not many equipment to replace excluding sputter equipment, it is expected that it will only take about 2 to 3 months to convert its line. Experts are predicting that there will not be much financial burden that is caused from up-front investment since amount of investment for conversion of line is not much.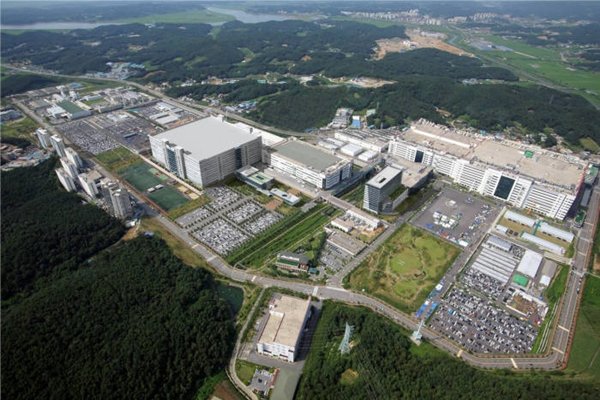 LG Display is going to maximize its sales and profitability of 8th generation OLED by expanding its production capacity of 8th generation OLED in China. Industries are predicting that LG Display will invest about $4.48 billion (5 trillion KRW) into 8th generation OLED plant in Guangzhou and secure production capacity of 60,000 OLEDs per month. LG Display already hardened idle land that is next to LCD line in Guangzhou and started preparing to construct a new factory.
LG Display has decided to produce flexible OLEDs from P10 besides E5 in Gumi and E6 in Paju. 6th generation line within P10 is the expansion of current E6 line. It is going to invest $4.8 billion (5 trillion KRW) into expansion line of E6 and additional $1.34 billion (1.5 trillion KRW) into current lines.
LG Display is making total of $8.96 billion (10 trillion KRW) amount of investments for E5 and E6, which are being set up, are added. LG Display is planning to secure production capacity of 65,000 6th generation flexible OLEDs per month by 2020. This production capacity is an amount that can produce 120 million 6-inch Smartphones per year.
LG Display is going to first produce 30,000 flexible OLEDs from expansion line of E6. Industries are predicting that LG Display will first carry out an investment that corresponds to 30,000 flexible OLEDs per month and then carry out additional investment that also corresponds to 30,000 flexible OLEDs per month. LG Display is going to start bringing in equipment in March of 2018.
LG Display analyzed that this investment will induce about $50.2 billion (56 trillion KRW) of production after considering direct and indirect economic ripple effects and estimated that this investment will create jobs for construction and first, second, and third equipment and material industries for about 210,000 people.
On this day, LG Display announced that it made $5.94 billion (6.6289 trillion KRW) and $720 million (804.3 billion KRW) from sales and operating profit respectively in second quarter. Due to reduction of shipment of small and medium panels, which is caused by slow season, and added effects of strong won, its sales and operating profit decreased by 6% and 22% respectively. However compared to second quarter of last year, its sales and operating profit increased by 13% and 1,712% respectively.
Staff Reporter Bae, Okjin | withok@etnews.com