KT and LG Uplus have established world's first national 'NB-IoT (Narrowband-Internet of Things)' network.
They have prepared a groundwork to enter hyper-connected society by connecting millions of objects. It is expected that their NB-IoT network will compete with SK Telecom's national IoT network called 'LoRa' which will then act as a catalyst that will expand IoT.
KT and LG Uplus announced on the 17th that they finished establishing commercialized national NB-IoT network. It has been 8 months since they announced their partnership in order to keep SK Telecom's LoRa in check. KT and LG Uplus upgraded LTE base station according to South Korean Government's technical standards and focused on establishing national network.
KT once announced in April that it would commercialize and demonstrate NB-IoT network, which has 1.2 to 1.5 times more coverage than current LTE network, in Seoul and entire metropolitan areas. Afterwards it finished establishing a national network by expanding NB-IoT network to roads ports, and small towns. Starting from August, it is going to introduce new services such as gas control and supervision of lost kids.
LG Uplus is planning to expand its commercialized services starting with gas remote reading pilot project. By having national network as its steppingstone, it is planning to rapidly expand services such as electricity remote reading, car management, and gas system management.
By establishing national NB-IoT network, they are now able to provide services on any moving objects regardless of their locations. KT and LG Uplus responded to movements by foreign businesses together and emphasized that they have started off on a right track towards hyper-connected society and Industry 4.0 by establishing world's first national network.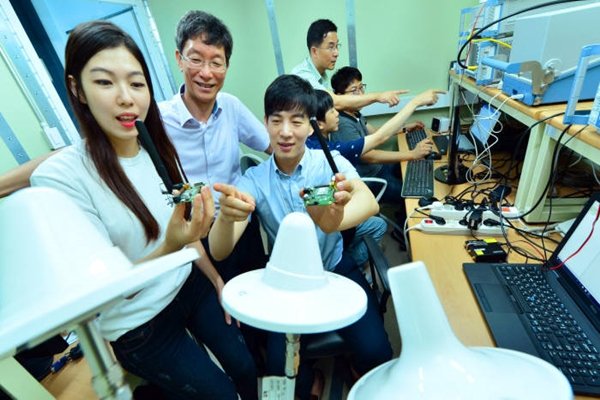 With establishment of national NB-IoT network followed by LoRa, there are now 2 national IoT network in South Korea. Although both network is based on LPWA (Low-Power Wide-Area) technology, their characteristics such as licensed and non-licensed bandwidths and separate network from current LTE network are very distinct. It is expected that there will be variety of economic services released with competitions between these two network.
KT and LG Uplus also announced their plans to work together in creating an ecosystem such as mutual connection of 'NB-IoT Open Lab'. By sharing their open labs that are located in Pangyo and Sangam-dong, small and medium developers can now test connections at both open labs.
Not only will this be convenient for developers but developers have also grabbed an opportunity to expand their markets by providing their devices to both KT and LG Uplus. KT and LG Uplus have developed co-certificate specifications together and are planning to operate a mutual certificate system. They have also decided to develop major technologies such as co-specifications, chipsets, and modules.
"We are going to grow number of members of GiGA IoT Alliance to 600 and see it as an opportunity to find startup companies that are looking to enter IoT markets." said Kim Joon-geun who is the head of KT GiGA IoT Business.
"Based on leadership of NB-IoT technologies, we are going to seek to coexist with small and medium South Korean companies continuously and we are planning to actively support these companies to enter global markets." said Director An Sung-joon of LG Uplus' IoT business.
Staff Reporter An, Hocheon | hcan@etnews.com