KT and KT SkyLife have developed a hybrid media service that combines LTE and satellite broadcasting. They have also expanded selection of contents for users by adding VoD (Video on Demand) service to real-time broadcasting.
KT and KT SkyLife announced on the 12th that they will be launching world's first 'SkyLife LTE TV (SLT)'.
SLT combines KT's LTE technologies and KT SkyLife's satellite broadcasting and allows one to watch contents at places such as tunnels where satellite signals are weak without any loss of connection.
It provides real-time broadcasting through satellite and it provides broadcasting signals in real-time through LTE whenever satellite signals become weak due to heavy rain or low signals.
Both businesses are going to target markets for 1.35 million moving objects such as premium express bus and others and are going to secure 100,000 members and 300,000 members by end of this year and end of next year respectively.
In order to implement SLT, KT and KT SkyLife have developed and applied 'BUS' technology that instantaneously comes and goes between satellite broadcasting network and LTE network and receives broadcasting signals.
BUS is an abbreviation for Buffering, Unified Intelligent LTE Switching, and Still Cut.
Its major technology is a buffering technology that delays satellite signals, which are received in real-time, at a set-top box for about 5 seconds and plays them. Even when broadcasting signal converts from satellite network to LTE network when it enters and leaves dark areas such as tunnels, one will be able to enjoy videos without any loss of connection.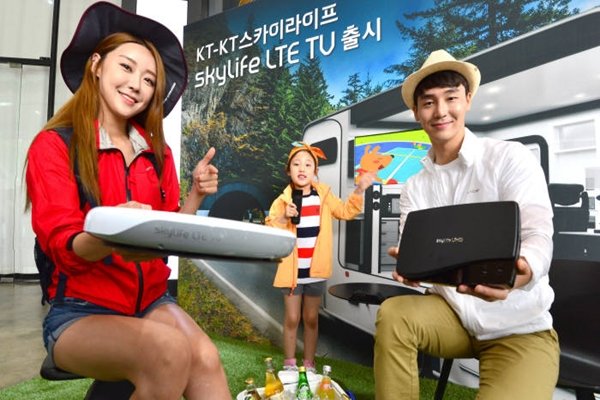 Unified Intelligent LTE Switching switches broadcasting signal reception from satellite to LTE in just a second whenever satellite signals are poor and automatically switches reception from LTE back to satellite whenever satellite signals become good again.
Still Cut technology is applied in order to have screens continue smoothly when receptions are changed between satellite and LTE.
After testing 7 cars on major freeways such as Gyeongbu, Jungbu, and Yeongdong for about 2 months since May, KT and KT SkyLife succeeded in providing real-time broadcasting under tunnels without any loss of connection.
They are planning to update RET (Retransmission) technology that can overcome temporary loss of packet. In November, they are going to launch high-class item that adds VoD service to about 400 real-time channels.
"Not only is SkyLife LTE TV going to lead South Korean media service markets for moving objects but it is also going to become a milestone for self-driving cars' infotainment." said President Lee Nam-ki of KT SkyLife.
"Not only are we going to apply these technologies to cars but we are also going to apply them to other moving objects such as high-speed trains such as KTX and SRT." said President Lim Heon-moon. "We are also planning to export these technologies to countries such as the U.S., France, England, and Japan that are advanced in satellite broadcasting."
Based on 2 year contact, one has to pay $14.44 (16,500 KRW, includes additional tax) per month in order to use SLT. Cost and installation fee of reception device such as antennas, set-top boxes, and LTE models will need to be paid separately. SK and SK SkyLife are going to provide discount on installation and 3 months free membership for new members until September.
Staff Reporter Kim, Jihye | jihye@etnews.com