LG Electronics introduced its premium-like Smartphone called 'Q series' that is priced at a reasonable price and has premium functions at the same time.
LG Electronics announced on the 11th that it will be introducing 'LG Q6 (32GB)' and 'LG Q6 Plus (64GB)', which are first models of Q series. It has 18:9 FullVision display and it is the first product to inherit design and performance of LG G6
Starting with South Korea in August, LG Electronics is going to sequentially release Q series in North America, South and Central America, Europe, Asia, and Middle-East Africa.
LG Electronics is expecting that Q series will become a bridge that connects premium Smartphones such as G and V series and budget-friendly Smartphones such as X and K series. Its strategy is to improve competitive edge in its brand and widen choice of selection for consumers.
Its intention is to minimize development cost and marketing cost for its Smartphones while maximizing sales volumes.
Previously, LG Electronics released 'G6 Plus' and 'G6 32GB', which are models derived from G6. Its plan is to target variety of consumers by diversifying prices and functions with premium Smartphone (G6) at the center and ultimately increase efficiency in its Smartphone business.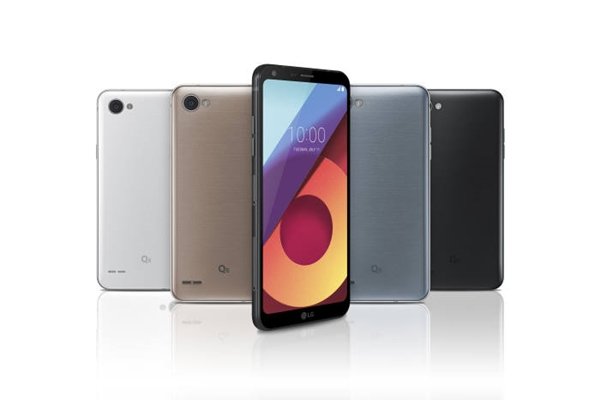 Besides these plans, it also intends to target markets for middle-priced Smartphones, which are dominated by Samsung Electronics' Galaxy A.
Q6 has Qualcomm's Snapdragon 435 processor and its battery capacity is 3,000mAh. Its operating system is Android 7.1.1 Nougat.
It has FullVision Display in order to maximize sense of immersion. Size of its screen is 5.5 inches while its picture ratio is 18:9 that is identical to G6. Its side metal edge is applied with aluminum (AL7000), which is used for airplanes and yachts, and is very light and implements best durability.
Its front optical camera's view of angle is 100° and it allows 7 to 8 people to be in a picture together. Its rear camera has high resolution of 13 MP. Its cameras offer special functions such as 'food mode' that shows food to look very tasty in a picture and 'GIF (Graphics Interchange Format)' that takes up to 100 pictures repeatedly in order to make pictures look like they are moving.
Q6 also functions such as face recognition function that allows one to lift a lock by holding a phone that has its screen off and showing his or her face towards a screen and FM radio that turns on without any applications. Although its price is not set yet, it is predicted that it will be around $435 (500,000 KRW).
"Q6 will show 'essence of premium-like Smartphone' by allowing one to enjoy premium functions with its affordable price." said Department Head (President) Cho Joon-ho of LG Electronics MC Business Headquarters.
Staff Reporter Kim, Yongjoo | kyj@etnews.com