South Korean Government and South Korean companies joined hands and have developed world's first 77-inch transparent OLED display after doing research for past 5 years. They have achieved better results than their initial goal, which was to develop 60-inch transparent OLED display, as they have developed bigger display with better resolution.
Ministry of Trade, Industry and Energy (MOTIE), Korea Evaluation Institute of Industrial Technology (KEIT), and LG Display held a briefing session for 'Transparent Flexible Display National Project Result' at Seoul Olympic Parktel on the 22nd. Vice-Minister Lee In-ho of MOTIE, Director Ha Sang-tae of KEIT, full-time Vice-Chairman Seo Kwang-hyeon of Korea Display Industry Association, CMO Yeo Sang-deok of LG Display, and CTO Kang In-byung of LG Display were in attendance.
Purpose of this project is to develop UHD transparent flexible display that is 60 inches or bigger and to develop IT convergence infotainment system that utilizes this display. With LG Display as the supervising company, total cost of this project was $111 million (126.2 billion KRW ($41.2 million (47 billion KRW) from South Korean Government and $69.4 million (79.2 billion KRW) from private fund) and it took 59 months from August of 2012 to June of this year.
77-inch transparent flexible display, which was introduced for the first time on this day, is bigger and has better resolution than full HD 55-inch display that was introduced at 'CES 2017' as an intermediate result. It has radius of curvature of 80R and exceeds initial goal of 100R. Because it can alter level of penetration of light and blocking of light, it can be used for a window and a TV at the same time. Its penetration rate is 40%.
This project was carried out in three smaller projects and they are: panel, equipment (rear-end industry), and front-end industry (User Interface (UI)). Equipment manufacturers have become the first ones in the world to develop equipment for large transparent flexible displays.
Front-end industries introduced applicable products such as digital signage that is applied with transparent flexible panel, Smart Desk, transparent infotainment display for self-driving cars, work table that shows AR (Augmented Reality) information, and garden and aquarium for interior purpose. By securing competitive edge in development of new materials and equipment early and establishing production infrastructures, they have prepared foundations that will allow them to create new markets together.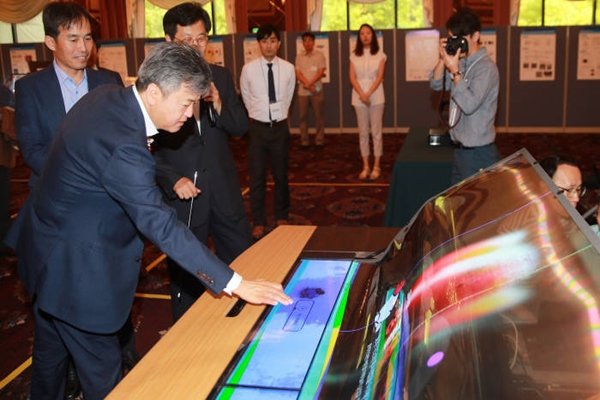 This project was seen as a model example that shows cooperation between industries, universities, research institutes, and South Korean Government as it nurtured personnel that will be responsible for future displays through partnership projects between industries and universities and shortened schedules of development through operation of consortiums. 163 students from 14 universities had participated and presented 162 theses by end of last year.
MOTIE also developed UI at the same time and emphasized effects of discovering variety of markets and business models at the same time as soon as this project is over.
"We are going to start using OLED panels, which are currently being used mostly for Smartphones and TVs, for construction, cars, and medical field." said Vice-Minister Lee In-ho of MOTIE. "As panel manufacturers centered on huge corporations and front-end and rear-end industries centered on small and medium companies participated together and achieved variety of results such as development of technologies, creation of new markets, and vitalization of industrial ecosystems, this project will be a reference in planning for R&D in areas such as display, materials, and parts."
"Through this national project, we are going to improve technical skills in large OLED panels and contribute in expanding new OLED markets." said CTO Kang In-byung of LG Display. "As a company that leads future display markets, we are going to focus more into providing higher values."
Staff Reporter Bae, Okjin | withok@etnews.com