Hyundai Motor Company has launched small SUV called 'KONA', which has the best specifications such as HUD (Head-Up Display) and ADAS (Advanced Driver Assistant Systems) compared to other small SUVs. Hyundai Motor Company is hoping to sell 26,000 KONAs and 45,000 KONAs in South Korea this year and next year respectively.
Hyundai Motor Company (Chairman Chung Mong-koo) introduced 'KONA' for the first time at Hyundai Motor Studio Goyang while executives and employees of Hyundai Motor Company such as Vice-Chairman Chung Eui-sun, Vice-President Jung Rak of Research Development Headquarters, and Director Luke Dongkolborke of Hyundai Design Center and about 400 South Korean and foreign reporters were in attendance.
"Global SUV markets are very important as they are showing high average growth rate of 20% yearly and have been growing ever since 2010." said Vice-Chairman Chung Eui-sun. "We put in so much effort in order to apply thorough analysis of customers and markets, optimum technologies, and passion to KONA."
KONA is equipped with large cascading grille and has LED DRL (Daytime Running Lights), which gives off sharp and high-tech look, positioned on top of grille.
Design of KONA's side emphasizes strong impression even more by emphasizing dramatic sense of comparison through combination of lines, materials, and color. Its rear design is unified with design of KONA's front side and emphasizes tough and strong impression.
Its interior design implements safe and convenient space by having 'customer's convenience' as the priority. It provides wide openness and pleasant view through a horizontal layout. KONA also has about 360 liter of loading space which is more superior to other small SUVs through VDA (Verband der Automobilindustrie) method, which is a European way of measuring freight loading space.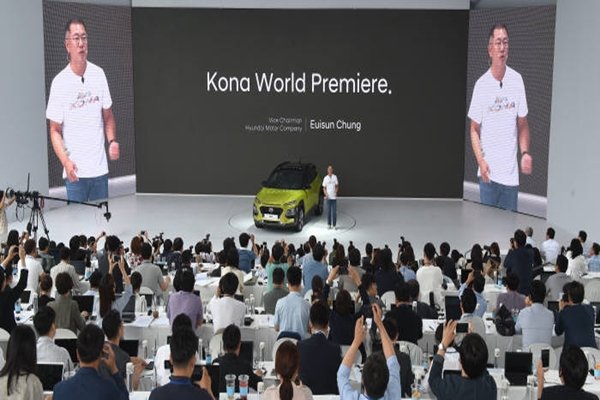 KONA comes with 1.6 GDi engine and 1.6 diesel eVGT engine. KONA with 1.6GDi engine has 177 horsepower and maximum torque of 27.0 kgfm while KONA with 1.6 diesel eVGT engine has 136 horsepower and maximum torque of 30.6 kgfm. They both come with 7-axel DCT (Dual Clutch Transmission and they maximize drive performance through 4-wheel system and rear-wheel multi-link suspension.
KONA is the first small SUV to be applied with high-tech intelligent safety technology called 'Hyundai Smart Sense' that includes FCA(Forward Collision Alert), LKA (Lane Keeping Assist), DAW (Driver Alert Warning), BCW (Backward Collision Warning), and RCCW (Rear Cross Collision Warning).
It is also the first small SUV to be equipped with combiner HUD. Unlike current ways that project driving information on the front windshield, combiner HUD shows information on a separate glass panel. Besides road information and speed, HUD also provides information on how new high-tech driving safety technologies are working.
Hyundai Motor Company is going to produce entire supply of KONA in South Korea and is hopping to sell 26,000 KONAs and 45,000 KONAs in South Korea this year and next year respectively. It is going to sequentially introduce KONA in Europe and North America in August and December respectively and is hoping to sell 41,000 KONAs and more than 150,000 KONAs this year and next year respectively. Depending on trim levels, price of KONA in South Korea is expected to be between $16,788 and $21,749 (18.95 million KRW and 24.55 million KRW). Price of KONA with TUIX package is going to be between $19,933 and $24,008 (22.5 million KRW and 27.1 million KRW).
"Starting with KONA, we are planning to establish a full lineup of SUVs that cover A segment to E segment." said Vice-Chairman Chung. "We are also going to actively respond to variety of demands from global SUV markets by diversifying powertrain that used to be centered on diesel and gasoline engines into electric cars, hydrogen electric cars, and cars with high-performance engine.
Staff Reporter Ryu, Jongeun | rje312@etnews.com