KT introduced its media technologies based on 5G network.
KT provided media service based on 5G trial network at FIFA U-20 World Cup Korea 2017 match between South Korea and Argentina.
KT set up 5G trial network at Jeonju World Cup Stadium and Suwon World Cup Stadium. It provided realistic media services by linking cameras and 5G base stations that are installed at these stadiums to 5G core equipment in Woomyeon-dong and CDN (Content Delivery Network) in Bundang-gu.
Major 5G services are '360 VR (Virtual Reality)' and 'interactive time slice'.
360° VR is applied with stitching technology that shows high-quality images that are taken with many VR cameras that are installed at the back of a goalpost at multiple angles and a technology that sends images through ultra-fast network in real-time.
Interactive time slice is a media service that allows one to choose timing or a player that he or she wants and to look at freeze frames at multiple angles. It has many functions such as flying view that provides smooth change in timing and free focus that allows one to focus and look at images of a player that he or she wants that allow one to experience vividness of a match differently.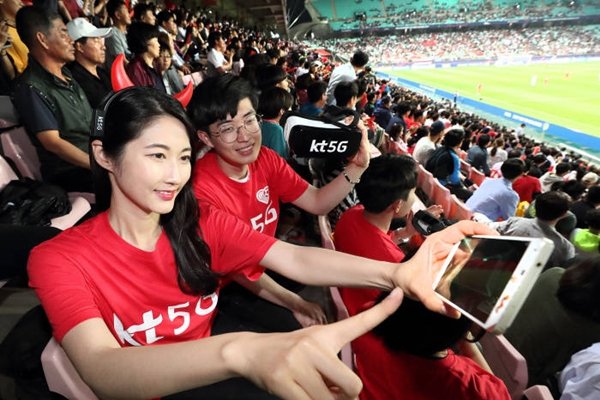 U-20 World Cup introduced video review service. When referees need to make important decisions on penalty kicks and warnings, video referee service can be used. User of time slice can become a so-called 'U-20 World Cup video review supervisor'. One can play images of a player that are taken at many different angles by using a zoom function after touching a particular player while watching a game through a Smartphone. This can also show images where players are making violations without referees knowing. This function is a function that used to be seen only through an online soccer game.
These services can either be enjoyed outside of a stadium or provided to broadcasting companies for TV broadcasting purpose.
"As an official partner of Pyeongchang Winter Olympics, we are also going to make full preparation in order to introduce our 5G technologies at Pyeongchang Winter Olympics, which is going to begin in February of 2018." said Director (President) Oh Sung-mok of KT Network sector.
On the other hand, KT is going to exhibit 5G buses at CD Zone that is set up outside of Jeonju and Suwon Olympic Stadiums where South Korean team's preliminary games and the final match. One can enjoy contents such as 3D AR (Augmented Reality) and VR and hologram and demonstration of self-driving technology. KT had drawn attention by demonstrating 5G self-driving bus at a second test event that took place at Pyeongchang Alpensia Ski Reort in March.
Staff Reporter Choi, Jaepil | jpchoi@etnews.com