South Korea's home appliance distribution markets grew slightly during first quarter of this year in spite of industries worrying about possibility of depression of domestic markets. As contamination of fine dust has become more serious, sales of home appliances such as air purifier and dryer for environment had led increase in sales. Out of major businesses, growth in LG Best Shop, which is carrying out shop-in-shop strategy, stuck out the most. As effects of release of premium Smartphones and new home appliances and TVs will be added starting from second quarter, it is expected that growth of home appliance distribution markets will continue in second quarter.
According to sales performance (tentative values) of home appliance distributors that was exclusively obtained by The Electronic Times on the 11th, it was calculated that first quarter sales of Lotte Hi-Mart, Samsung Electronics Sales, Hi Plaza, and Electro Land Co., Ltd. added up to about $1.56 billion (1.7910 trillion KRW). Industries estimate that sales from these four companies contribute to about 60% of entire domestic home appliance distribution markets.
Home appliance distribution markets in first quarter grew about 1.2% compared to first quarter of last year and overcame any worries that performance would become worse due to economic depression and insecurity in political situations.
LG Best Shop's performance is the one that stuck out the most. LG Best Shop, which was about to end continuous de-growth that had lasted for many years and grew more than 20%, also increased first quarter sales by more than 10%. Based on first quarter sales cost, it made about $279 million (320 billion KRW). Popularity for its home appliances such as dryer and air purifier for environment was high and expansion of Home Plus's shop-in-shop stores that brought increase in last year's sales also helped its first quarter sales. Currently there are 27 shop-in-shop stores in South Korea and this is 5 more than the number of stores at the end of last year. LG Electronics is going to continuously increase number of shop-in-shop stores in the future.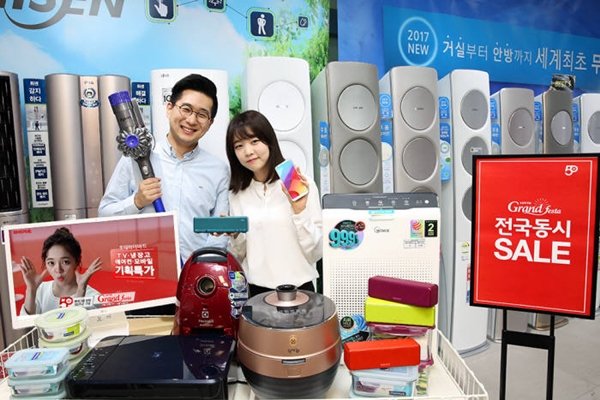 Lotte Hi-Mart, which made the most sales in first quarter out of home appliance distributors, made $802 million (920 billion KRW) which is 3.6% increase compared to first quarter of last year. Fact that it has drawn demands by carrying out sales events such as carrying out sales events in all parts of South Korea at the same time starting from early this year has impacted its performance.
Electro Land Co., Ltd. made about $100 million (115 billion KRW) in first quarter which is about 1% increase compared to first quarter of last year. Although this has been small increase in growth after its performance started growing again last year, its sales have been increasing steadily.
Samsung Digital Plaza was the only one that had its sales decrease. It made about $379 million (435 billion KRW) in first quarter which is about 7% decrease compared to first quarter of last year. It seems that its sales decreased as there weren't any premium Smartphones while there was high percentage of demands for mobile devices.
Home appliance distributors are generally encouraged that they were able to overcome a slow season and any initial predictions that believed that they would go through slump. Also expectations towards increase in entire performance of this year have also grown.
Fact that mentality in consumption is quickly being improved as presidential election is set for May is a positive sign. Also the fact that sales of premium Smartphones such as Galaxy S8 and G6 are becoming regularized and leading to new products such as TVs, refrigerators, and air conditioners is another positive factor. Rapid increase in sales of dryers this year is also a positive sign.
"Although we were hugely worried about first quarter performance, results were satisfactory." said a representative for a home appliance distribution industry. "Performance will be even better after second quarter due to sales of premium Smartphones."
Staff Reporter Kwon, Keonho | wingh1@etnews.com
■First quarter sales of major home appliance distributors (tentative values)
▲Sales ΔLotte Hi-Mart: $802 million (920 billion KRW) ΔSamsung Electronics Sales: $379 million (435 billion KRW) ΔHi Plaza (LG Best Shop): $280 million (321 billion KRW) ΔElectro Land Co., Ltd.: $100 million (115 billion KRW) ΔTotal: $1.56 billion (1.7910 trillion KRW)
▲Growth rate compared to first quarter of last year ΔLotte Hi-Mart: 3.6% ΔSamsung Electronics Sales: -7% ΔHi Plaza (LG Best Shop): 12% ΔElectro Land Co., Ltd.: 1% ΔTotal: 1.2%
Reference: Collection of information from industries