Samsung Electronics and Harman, which specializes in audio, are planning to go after premium audio Smartphone markets starting with Galaxy S8.
At Harman flagship store, which is located on the 527th street in New York, Senior Vice President Dave Rogers of Harman Consumer Audio Business emphasized on 'synergy effect with Samsung Electronics through cooperation in Smartphone audio business'.
"We are going to supply AKG brand earphones as part of Samsung Electronics' Galaxy S8 series bundle products." said Senior Vice President Rogers. "If we unite our capabilities with Samsung Electronics that possesses wide global network, we can expect significant growth in the future."
Samsung Electronics is planning to apply Harman's audio technologies and go after 'premium audio phone' markets based on manias. AKG earphones will be a flare that will turn strategies of Samsung Electronics that has not put out performance of Smartphone's audio system as part of its strategies.
Although Samsung Electronics previously installed 4 AKG speakers to its Galaxy Tab S3 tablets, this is the first time when two companies are joining hands on audio system of Smartphones.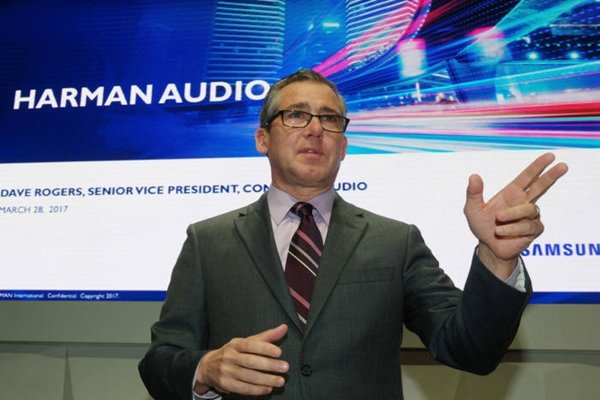 Galaxy S8's AKG earphones have two diaphragms of 11mm and 8mm and have excellent ability to play high-bandwidth sound. Earphone is designed as a hybrid canal design to provide convenient wearing sensation while earphone lines are made out of metal and fiber so that it does not tangle much and has high durability.
It is heard that Samsung Electronics is planning to apply Harman's audio technologies to its Galaxy S9 (tentative name) that is expected to be released next year. It is predicted that this will be an inflection point where Samsung Electronics tries to feel out possibilities of having successful performance in global Smartphone markets that are formed with audio manias at the center.
Harman is a company that possesses well-known audio brands such as AKG, JBL, Harman Kardon, Infinity, and Mark Levinson. Even after merges, it is maintaining independent management due to current executives.
On the other hand, Harman's flagship store opened on the 22nd of November in 2013 and is a place where one can experience and purchase Harman's audio products. This store, which is divided into four themes, exhibits variety of products such as audio equipment, home audio, speakers with high performance, and headphones and is called as 'attraction in New York' for audio manias and music lovers in the U.S.
Staff Reporter Choi, Jaepil | jpchoi@etnews.com