South Korean research team has developed a technology that can send and receive three signals at the same time by applying rotation to radio wave. By applying this technology, there will be ways to send more data with identical number of frequencies and equipment.
Electronics and Telecommunications Research Institute (ETRI, Director Lee Sang-hoon) made an announcement on the 22nd that a research team led by Director Byun Woo-jin of Radio Wave Resource Research Group has developed a technology that increases efficiency in usage of frequencies by three times by rotating each radio signal at a different angle and sending radio signals.
Industries had been sending data either vertically or horizontally until now. Because direction of delivery of data was limited, it also reduced efficiency in usage of frequencies. However they were able to send many signals together when 'OAM (Orbital Angular Momentum)' principle that says radio waves move according to particular orbits was found in 2011.
Research team applied different mode (shape) to each radio wave within OAM and implemented total of three modes by having different number of rotations of radio waves and directions of rotations. Each mode was first separated depending on rotation and restored into one again after going through a receiver. This allows data that is three times more than current amount to be sent from same frequencies.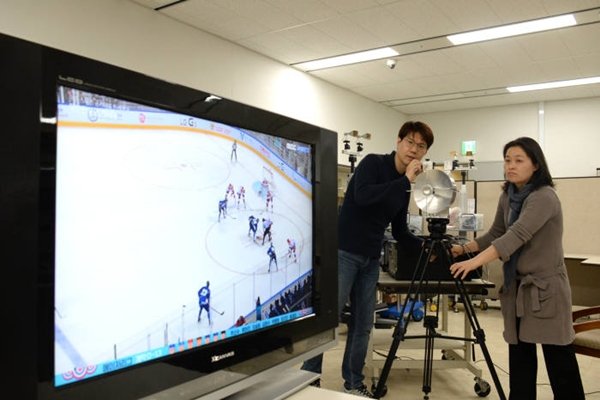 Research team explained that it already finished testing on creating and restoring three radio signals from single antenna.
High-gain cassegrain reflector antenna was used to send and receive signals. This instrument focuses energies from radio waves into one direction with two reflectors. Ultra-high 'butler matrix circuit' that separates and combines many radio waves was added to this instrument and it allows current vertical and horizontal polarizations to be used at the same time.
This technology is advantageous in communication environment that utilizes millimeter wave which is a resource for future frequencies. Millimeter wave of 30 to 300GHz has energies from radio waves focused on small area and can send and receive data with antennas with relatively small area. It is possible to enter global markets with related antenna technologies. Currently global antenna markets are worth $4.47 billion (5 trillion KRW).
Research team applied for 10 international patents based on this technology and also published 8 papers such as 3 SCI (Science Citation Index) journals. It predicts that this technology will be commercialized within 4 years and is going to carry out researches on communication with large data, planar structure reflector antenna, and high-resolution radar application step by step.
"It is possible to even increase number of radio waves that are sent by modifying modes and strengthening performance of filters." said Director Byun Woo-jin. "We are going to focus on increasing efficiency in usage of frequencies and commercializing this technology as soon as possible."
Staff Reporter Kim, Youngjoon | kyj85@etnews.com