3.5GHz and 28GHz, which are frequencies that were proposed by South Korea as frequencies for 5G network, were selected as work items by 3GPP (3rd Generation Partnership Project) that is an international standardization organization. While interests of countries are becoming sharp as they look to grab upper hands in this market, a possibility that South Korea's frequencies will become international standards has risen. (Reference: 3rd and 8th pages of The Electronic Times that was published on the 3/7/17)
KT made an announcement on the 9th that it attended 3GPP's wireless general meeting, which took place in Croatia from the 6th to the 9th (Croatia time), and proposed 5G network's major technologies as the chair company of NGMN's (Next Generation Mobile Networks) TTBB (Tests of Technology Building Blocks) and applied them as standard tasks for 3GPP's 5G network.
Starting from June of 2016, KT selected 18 major 5G technologies that include 5G wireless transmission technologies and core link technologies along with other global telecommunication companies and manufacturers.
During meetings, KT proposed 3.4~3.7GHz and 26.5~29.5GHz frequency standard tasks that include 28GHz bandwidth and 3.5GHz bandwidth to 3GPP and they were included as target range of standard (work item).
While this contributes to South Korea's plan to secure frequencies for 5G network by 2018 but it also prepares bases for commercialization of world's first 5G network in 2019.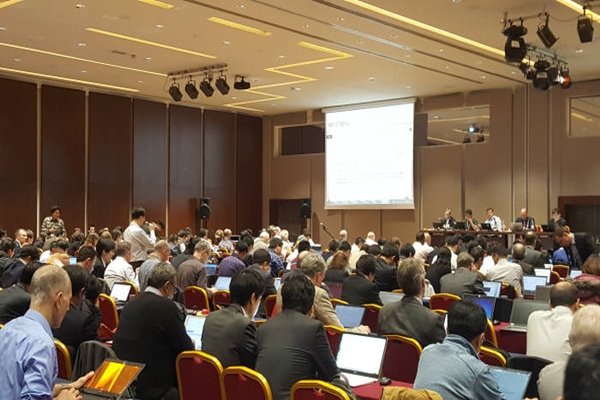 KT has worked with Telecommunications Technology Association (TTA) and continuously proposed standards for frequencies that include 28GHz bandwidth and 3.5GHz bandwidth based on K-ICT Spectrum Plan, which was announced by Ministry of Science, ICP (MSIP) and Future Planning, to 3GPP.
"Fact that these bandwidths have become work items from study items indicates that there is a chance that they will be selected as standards by 3GPP." said Director Lee Yong-kyu of KT. "It is a result by cooperating with MSIP and TTA since last year."
47 global ICT (Information Communication Technology) businesses including 3 South Korean mobile network providers such as KT, AT&T, DOCOMO and others co-proposed that they want to complete 'NSA (Non-Stand Alone' standards that link 5G and LTE network by this year and finalized this proposition during a meeting.
NSA standards are expected to be included as part of '3GPP Release 15' that can be seen as a first start of 5G standards. KT predicts that NSA standards will become international standards that can be utilized for frequency band under 6GHz and ultrahigh frequency band.
Staff Reporter An, Hocheon | hcan@etnews.com