Many huge cranes can be seen at Samsung Display's production facilities for modules that are located in Bac Ninh as Samsung Display is building facilities for modules in order to respond to number of demands for OLED displays that are rapidly increasing. A representative for a Vietnamese industry hinted that it seems that Samsung Display is constructing production lines just for Apple.
Vietnam is emerging as a production base for South Korean component manufacturers that will supply their components to Apple for its new iPhone. Samsung Display, BHE, and Interflex are building facilities with northern part of Vietnam at the center in order to supply their components to Apple. Although their new facilities will be mostly based on to supply modules for OLED displays, it is predicted that range of components that these companies are going to supply to Apple will expand to other components as well.
◊Samsung Display Working to Expand Its Facilities for OLED Modules
Samsung Display's facilities in Vietnam bring in OLED panels that are manufactured in Asan, South Korea and manufactures modules by combining these panels with other parts. They are responsible for back-end processes so that OLED panels can be attached to Smartphones.
In 2014, Samsung Display invested $1 billion to build production facilities for OLED modules for Smartphones next to Samsung Electronics' first Smartphone facility and it invested additional $3 billion to these facilities in 2015.
Samsung Display is once again extending size of these facilities by investing additional $2.5 billion to meet number of demands for OLED panels that is increasing continuously and Apple has a lot to do with this increased demands.
Apple has decided to use OLED panels for the first time for its new iPhone, which is scheduled to be released in this fall, and asked Samsung Display to supply its OLED panels. Samsung Display is the world's biggest OLED manufacturer and it is heard that it is going to supply its OLED modules for 80 million iPhones in just this year.
Due to an order from Apple, Samsung Display has been pushing for extension of production facilities for OLED panels since last year. Since number of panels has increased, it also had to extend the sizes of its production facilities. Because manufacturing of modules require much manual work, Samsung Display chose its facilities in Vietnam, where personnel expensive is inexpensive, and decided to extend their sizes.
Many cranes that were seen at Samsung Display's facilities in Vietnam are there to construct facilities that will prepare for number of demands for OLED modules that is increasing rapidly. It seems that it won't be too long before Samsung Display starts operating these facilities as most of them are nearing completion.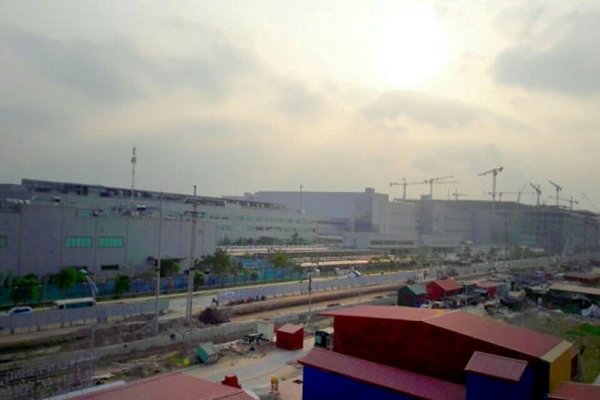 ◊Extension of Facilities for FPCBs
Companies that will be producing FPCBs (Flexible Printed Circuit Board) to Apple are also working to extend their facilities in Vietnam.
BHE is currently building new facility for FPCB in Tinh Vinh Phuc, which is located about 50km away from Hanoi. This facility, which will be BHE's second facility in Vietnam, hopes to start its operation in May. When construction is finished, BHE's production capability will be doubled.
Reason why BHE is extending its facilities is also due to Apple. BHE's FPCBs are supplied to Apple after they are combined with Samsung Display's OLED panels. BHE supplies its FPCBs to Samsung Display which then modularizes them with its panels and supplies them to Apple. BHE manufactures FPCBs in South Korea and carries out back-end process in Vietnam.
Besides BHE, Samsung Electro-Mechanics and Inteflex that supply FPCBs to Apple are also building up their productions in Vietnam.
Samsung Electro-Mechanics invested more than $86.9 million (100 billion KRW) in order to extend its facilities in Vietnam and is planning to operate its new facilities starting from this summer.
Inteflex has moved its production lines for back-end processes to Vietnam in order to be close to its customers since manufacturing of OLED modules for Apple is taking place in Vietnam.
◊#Expansion of a Role of Vietnam as a Production Base for iPhone
Currently Vietnam is being formed as a production base for components of iPhone with OLED module at the center. However it is likely that this will soon expand to other components as cameras are also scheduled to be produced in Vietnam.
LG Innotec invested $230 million and is currently building facilities in Haiphong, which is a port city that is located at the north of Vietnam, with a goal of operating them in 2018. LG Innotec is a major supplier of Apple that supplies camera modules for iPhones. Possibility that Vietnam will rise as a major production base for iPhone is growing even more.
Staff Reporter Yun, Keonil | benyun@etnews.com