Korea Electric Power Corporation (KEPCO) has taken a step towards new renewable energy development business in Middle-East. It is going to construct large-scale of wind power plants in Jordan and will be responsible for 20% of electricity supply.
KEPCO made an announcement on the 14th that it held a groundbreaking ceremony for 'Jordan Fujeij Wind Power Plant' in Amman, Jordan.
This project, which requires 89.1MW of facility capacity, was won by KEPCO by investing 100% of its shares. After its completion in October of 2018, KEPCO is going to operate these plants for next 20 years and collect (BOO (Build, Own, Operate) investment profits. KEPCO is expecting that it will make about $500 million from sales during this period.
Total cost of this project is going be $184 million and FWPC (Fujeij Wind Power Company), which is a corporate that was set up by KEPCO in Jordan, will obtain project financing (PF) through The Export-Import Bank of Korea and international industrial banks. Construction of these plants will be done by Vestas, which is a wind power turbine manufacturer in Denmark.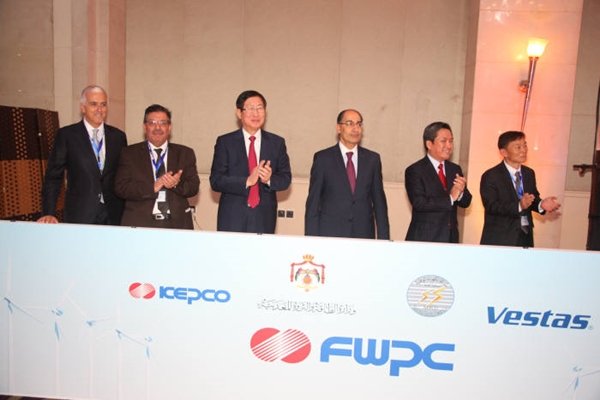 After being selected as the primary negotiator by Ministry of Energy and Mineral Resources of Jordan (MEMR) in 2013 for an international bidding for construction and operation of wind power plans, KEPCO agreed with MEMR in December of 2015 after going through two years of negotiations. By constructing these plants, KEPCO will now operate three power plans including 573MW Amman IPP3 power plants that were completed in April of 2015 and 373MW Al Qatrana power plants that were completed in February of 2012. These capacities correspond to 24% of Jordan's entire power capacity (4300MW).
After starting with wind power business in China ten years ago, KEPCO recently won orders for solar power in Chitose (28MW) and Colorado (30MW) and is going to speed up its process in new renewable energy business in foreign countries by winning an order from Jordan's wind power plants.
"We are going to contribute in supplying electricity to Jordan and I hope that this will be an opportunity for South Korea and Jordan to work even more closely in energy field." said President Cho Hwan-ik of KEPCO at this groundbreaking ceremony.
At this groundbreaking ceremony, about 150 major personnel including Minister Ibrahim Seif of MEMR and President Abde Al-Fattah Al-Daradkeh of NEPCO were in attendance.
Staff Reporter Choi, Ho | snoop@etnews.com