Samsung Electronics has expressed its strong confidence in quality of 2017 Quantum-Dot TV called 'QLED TV' and even exercised its superiority in quality by comparing QLED TV to OLED TV. Samsung Electronics announced that it will focus on luminescent QLED TV that produces light by itself without backlight to Quantum-Dot.
President Kim Hyeon-seok of Samsung Electronics VD (Video Display) Business Department made such announcement after holding a meeting and an event for new TVs in Las Vegas on the 3rd ( U.S. time).
"Reason why we compared QLED TV to OLED TV was to show overall advantages that QLED TV has in quality." said President Kim Hyeon-seok. "We demonstrated comparison to show that QLED TV does everything such as black, brightness, and field of view well instead of having advantage in one of them."
Product that was introduced on this day was applied with metallic material and improved Quantum-Dot function significantly. Samsung Electronics also reconfirmed its plan to develop luminescent QLED TV by continuously developing its level of Quantum-Dot technologies.
"Although it is difficult to tell exact timing of release of luminescent QLED product at this moment, we have made a significant progress from technical aspect." said Vice-President Han Jong-hee of Samsung Electronics who attended this meeting.
Samsung Electronics also announced that reason why it acquired QD Vision, which had possessed elemental technologies in Quantum-Dot material, is because it wants to secure technologies regarding luminescent. Significant part of patents that QD Vision had possessed is related to luminescent.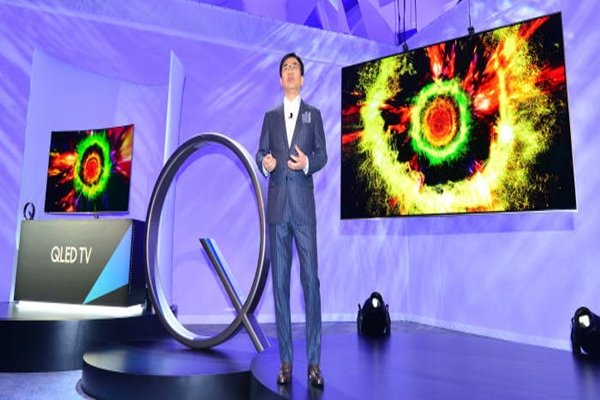 Samsung Electronics is going to introduce highest-class QLED TV and new lineup of medium and high-priced LCD TVs as TV lineup in 2017. One of its model called 'MU' is a high-class LCD TV that is designed to target medium and high-priced TV markets.
"We are only going to introduce QLED TV at CES and then announce our new TV called 'MU' in the future." said President Kim.
Samsung Electronics is seeing that quality of their TVs is approaching perfection through QLED TV. Due to their belief, it is working on developing additional technologies that can provide convenience to consumers along with quality.
"Many consumers talk more about their inconvenience using actual TVs rather than quality of TVs." said President Kim. "To resolve their inconvenience, we have given many changes such as application of voice recognition and removal of connection lines for TVs and surrounding devices."
By applying voice recognition function to its 2017 TVs, people can now change channels as well as complicated functions such as control of quality and connection with outer devices through their voice. It is planning to increase level of convenience even higher in the future by applying AI (Artificial Intelligence).
Samsung Electronics said that it is currently discussing with LG Display regarding supply of LCDs. "Although we have not finalized any detailed information with LG Display, both companies are in serious talks." said President Kim.
Staff Reporter Kwon, Keonho | wingh1@etnews.com