Lotte is planning to install charging infrastructures for electric vehicles at its subsidiaries' shopping malls, distributors and hotels. Industries predict that this is Lotte's strategy to establish itself as the 'leader in living culture of electric vehicles' according to characteristics of its major businesses that have many people and cars moving around.
According to an electric vehicle industry on the 21st, Lotte Group is going to install chargers for electric vehicles at all Lotte Mart, Lotte Hi-Mart, Lotte Outlet, Lotte Department Store, Lotte Super, and Lotte Hotel in South Korea. This is the first time when a conglomerate is installing chargers for electric vehicles at all of its major business chains at the same time.
"Lotte Group's subsidiaries are discussing with each other in order to install charging infrastructures at all of Lotte Group's business places in South Korea." said a representative for Lotte Group. "We are going to slowly install chargers especially rapid chargers after going through an on-site examination at business places except for places that already installed chargers or are planning to install one."
Instead of simply providing its customers with charging infrastructures, Lotte Group is planning to improve its public service and expand businesses such as electric vehicle sharing and rental. It is predicted that people will start to think that it will be possible to charge electric vehicles whenever they go to Lotte Group's business places in South Korea.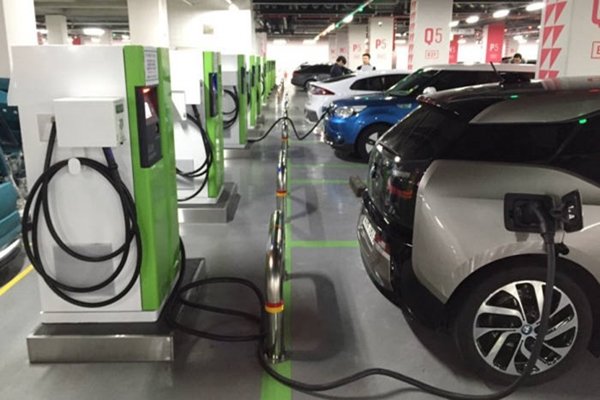 Starting with Lotte Super during first half of 2017, Lotte Group is planning to install charging infrastructures especially rapid chargers at 50 shopping malls and distributors that are located in South Korea. Afterwards it is going to increase number of chargers by considering trend of supplies of electric vehicles per local government.
Lotte Group installed South Korea's biggest size of charging infrastructures at Lotte World Tower and Lotte World Mall, which are Lotte Group's landmarks, and is going to operate them starting from the 20th. They will be composed of 120 rapid and slow chargers including 10 rapid chargers (50kWh) and are going to be the biggest single charging infrastructure in South Korea. Just the cost of chargers and installation exceed $837,000 (1 billion KRW).
Project of installation of chargers is in a stage of final adjustment between Lotte Group's subsidiaries. This project will be carried out once subsidiaries go through individual on-site examinations such as capacity of hydroelectricity and area of parking and secure land for charging infrastructures. Korea Electric Power Corporation and Korea Electric Vehicle Charging Service (KEVCS) will be the ones to install and operate Lotte Group's charging infrastructures except for infrastructures that are already installed or being installed.
Cost to use these chargers is going to be either free or similar to the cost of using Ministry of Environment's public chargers. Lotte Group's subsidiaries are going to make these chargers compatible so that people who are currently using chargers from Ministry of Environment and Korea Environment Corporation and people who are using chargers from private businesses such as KEVCS and POSCO ICT can also use Lotte Group's chargers.
"I was very surprised after I used a charger for my electric vehicle at Lotte Mall." said Kim Jae-jin who has an electric vehicle and visited Lotte World Mall on the 21st. "This is the only place in South Korea where 12 electric vehicles can be parked at an underground parking lot and charged at the same time. This is great news for people who have electric vehicles."
Staff Reporter Park, Taejun | gaius@etnews.com