In order to have a successful opening of 'IEVE (International Electric Vehicle EXPO) 2017', which aims to be the Davos Forum in BEV (Battery Electric Vehicle) field, IEVE committee and The Electronic Times have joined hands.
Committee and The Electronic Times signed off on a MOU at The Electronic Times' Headquarters on the 20th regarding 2017 IEVE Conference. Both sides have agreed to work closely at every year's IEVE Conference by using their experiences and knowhow that they have gathered since establishment of EXPO in 2013.
First of all, they are going to cost-host 'Global Electric Vehicle User Forum & Festival (EVuff@global) and 'New and Renewable Energy + ESS (Energy Storage System) Convergence Forum' as the first main opening event at 4th IEVE Conference in March of 2017 and work together as partners for variety of small events.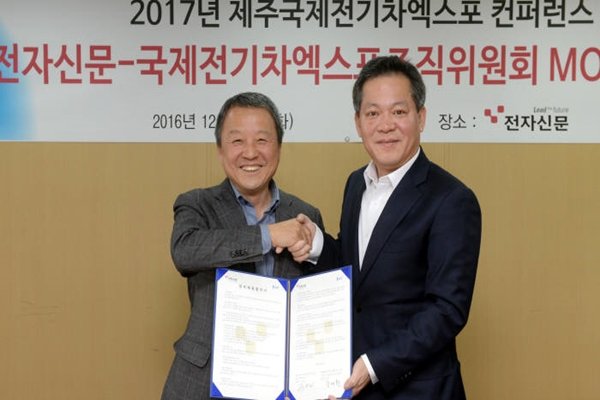 2017 Conference will be composed of total of about 40 topics including private programs. Also 10,000 domestic and foreign experts and researchers from EVuff, international standardization organization, IT convergence, and new and renewable energy fields will be in attendance. It will have conferences in variety of fields such as battery and charging technologies, materials and components, Smart Grid, new and renewable energy and others and is going to be composed based on exchanges of industries and technologies that are related to electric vehicles and include trend of global markets and technologies.
"In order to build Jeju Island as the 'platform for markets for electric vehicles', we have decided to have The Electronic Times as our first media partner." said Chairman Kim Dae-hwan of IEVE Committee. "We are going to make this expo as the 'Davos Form' in electric vehicle field through variety of programs and exchanges of international industrial network."
IEVE 2017 is a first attempt for international event regarding vehicles and will be held on the 17th of March at an outdoor setting in Jeju Island along with natural environment of Jeju Island. It is going to have Yeomiji Botanic Garden with a size of 100,000 m2 as its main stage and will be held with a topic of 'Future of EV, Eco-reVolution'.
Staff Reporter Park, Taejun | gaius@etnews.com