SK Telecom has started developing 5G services using AR (Augmented Reality) and VR (Virtual Reality) with a venture company.
SK Telecom selected 3 companies such as Looxid Labs, Red Bird, and ELROIS through a '5G Realistic Media & Convergence Service Exhibition' that it hosted along with UnityKorea which specializes in engines for mobile games. These are companies that specialize in AR and VR which are expected to represent as major services for 5G network.
SK Telecom and UnityKorea will support people who are going to research into AR and VR in order to support development of 5G network and consult on technologies such as measuring devices. They are going to finish developing prototypes during first half of next year and examine whether or not they can be commercialized.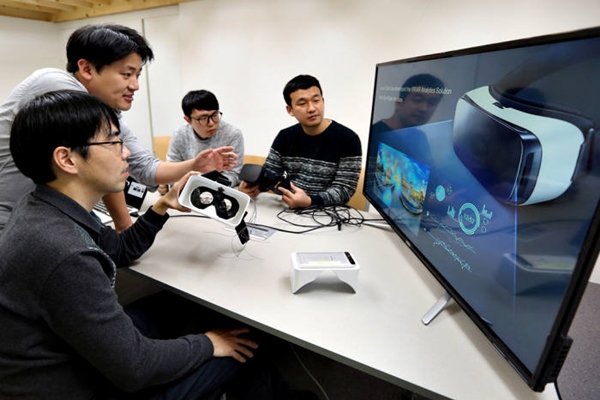 Looxid Labs proposed a service that analyzes one's feeling based on VR contents. When a person wears HMD (Head Mount Display) and uses VR contents, this service will measure brainwave and send information to 5G network's server and analyze it in real-time within a server. It is going to analyze one's perception and feeling based on data from brainwave and gaze and it is expected to be used in many areas such as educational contents and measurement of effects of advertisements.
Red Bird's '3D Smart Stadium' utilizes 3D modeling technology and shows an image of a stadium as 3D through mobile devices. It provides useful information such as location of convenience stores and emergency exits through a 3D image of a stadium that is implemented through a web browser.
ELROIS' 'Realistic Drone Experience' utilizes drones to compose images and 3D avatar that are taken through drones and planes. It is a drone racing game that makes people feel like they are actually controlling drones and it increases sense of reality on games.
"In order to innovate platform businesses and form an ecosystem of 5G services, we are going to create successful models along with small and medium businesses." said Director Choi Jin-sung of SK Telecom's Technical Institute.
Staff Reporter An, Hocheon | hcan@etnews.com