Ignition has turned on for world's first connected car that recognizes road conditions such as accidents and traffic congestions in just 0.1 second and sends them as UHD videos in real-time through 5G mobile network.
SK Telecom and BMW Korea introduced 5G connected car called 'T5' at BMW Driving Center that is located in Incheon on the 15th and demonstrated future driving technology called 'Smart Driving' service that is implemented through 5G network.
Both companies established world's biggest test site for 5G network within BMW Driving Center. This is the first time when a connected car that uses large 5G network is driven.
Connected car is a Smart Car that is connected to surroundings through network and can check traffic information as well as other cars' information in real-time. Because it is far more superior in amount of information and speed for receiving and sending information with outside than self-driving cars, it can drive more perfectly than self-driving cars.
SK Telecom and BMW Korea demonstrated a technology that immediately detects and notifies traffic conditions with 1/1000th of a minute delay time, which is a condition that was decided by ITU (International Telecommunication Union) for 5G technology, and sends UHD real-time videos to control centers and surrounding cars with 20Gbps speed.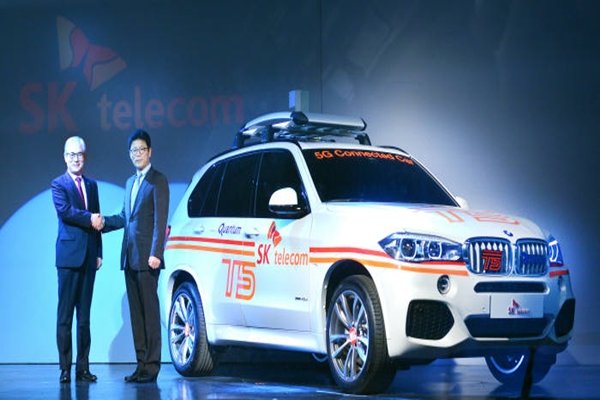 This demonstrative 5G network was also connected to drones to notify any traffic conditions from the air. Depending on certain emergency situations, signals and CCTVs were automatically controlled in real-time based on ultra-low delay telecommunication. SK Telecom and BMW Korea also demonstrated 5G bus that has 4 UHD screens and allows people to watch contents such as holograms with ultra-high quality.
"Connected cars are not just simply a method of transportation but they will emerge as a living space in the future." said Director Choi Jin-sung of SK Telecom Technical Institute. "T5 will evolve as a perfect car that is connected to 5G."
SK Telecom is going to enter markets for connected cars with 5G 'Killer Service'. Its goal is to lead in these markets by optimizing 5G's characteristics such as ultra-fast telecommunication and ultra-low delay onto cars. Its other goal is to create new values that will lead 4th industrial revolution by working with global automotive manufacturers as well as South Korean markets.
SK Telecom also signed off on MOU (Memorandum of Understanding) with BMW Korea to develop 5G connected cars. To commercialize 5G which is a major infrastructure for connected cars, SK Telecom is going to establish demonstrative 5G network with global manufacturers such as Ericsson, Nokia, and Samsung Electronics starting from early 2017. It is also going to work with Qualcomm and Intel to make a right sized 5G modem for actual users.
"T5 Project does not only introduce world's first 5G connected car but it is a first step towards commercializing world's first 5G." said Lee Hyeong-hee who oversees SK Telecom's businesses.
"We are planning to continuously combine cars with ICT (Information Communication Technology)." said CEO Kim Hyo-jun of BMW Korea. "We are going to focus on implementing futuristic services with SK Telecom."
Staff Reporter Park, Jisung | jisung@etnews.com