Hyundai Motor Company is going to install healthcare functions to its luxury brand called Genesis, and this project is called 'Wellness Project' that even takes care of health of passengers. Vehicles will measure pulse and temperature of passengers and call ambulance and carry out first aid when there is an emergency situation.
According to an industry on the 10th, Hyundai Motor Company is speeding up its process of 'Wellness Project' that installs health management functions in vehicles. This project is directly ordered by Chairman Chung Mong-koo of Hyundai Motor Company and it is going through R&D stage for mass-production.
Goal of this project is to install many healthcare functions in Genesis by the end of 2017.
Hyundai Mobis and 3 to 4 universities including Seoul National University are participating in this project. This project was launched as Chairman Chung chose wellness as one of functions that can increase quality of vehicles and lives. This project is applied with Chairman Chung's will to raise quality of lives of customers through detailed maintenance in order to have Genesis become a luxury brand.
This project is one of important projects that are preparing for 'Car to Life' generation where cars become center of every lives.
Wellness is a compound word of well-being and fitness and it indicates a situation where body, mental, and society health are in balance. Not only is Hyundai Motor Company trying to provide quietness and convenience to its luxury sedan that symbolizes one's position in society but it is also trying to maximize usefulness of its luxury sedan to its customers by installing functions that even manage passengers' health.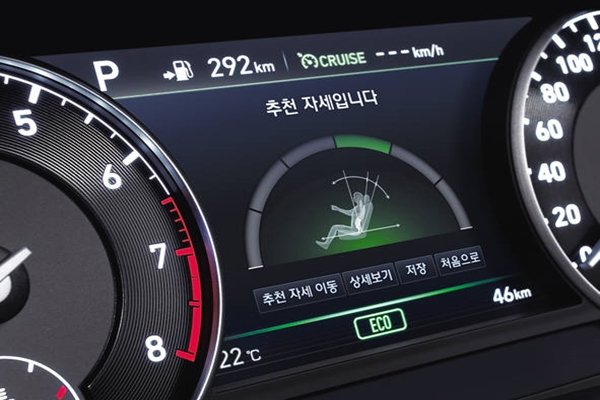 Hyundai Motor Company first focuses on installing healthcare functions to chauffeur-driven vehicles. When passengers seat in back seats, sensors that are installed in vehicles and can be linked to Smart Watches measure pulse and provide information of one's health after analyzing it. Hyundai Motor Company is also looking into a function that automatically calls 911 or nearby hospitals where there is an emergency situation.
Previously, Hyundai Motor Company equipped seats that think about health of passengers for its first Genesis brand called EQ900. 'Modern ergo seat' is designed to minimize degree of fatigue of passengers and received an official approval from AGR in Germany. Hyundai Motor Company also developed 'Smart Posture Control System' by working with Seoul National University's Medical School. This system automatically positions seats, steering wheel, outside mirrors, and head-up display according to optimized driving posture when a driver inputs information of his or her body type such as height and weight.
Hyundai Motor Company is planning to continuously increase number of functions that are close to lives and health of people for its Genesis brand.
Foreign luxury automotive manufacturers are also interested in 'vehicle wellness' as one of ways to increase quality of their customers' lives through vehicles. Fact that Audi joined a group to promote healthcare industries and announced a wellness brand called 'Audi Fit Driver' has a same context.
"Cars are evolving as second living space for people." said a representative for Hyundai Motor Company. "To truly implement Car to Life, we are increasing amount of our attention towards technologies that maintains health which are consumers' biggest interest."
Staff Reporter Mun, Bokyeong | okmun@etnews.com