2018 Pyeongchang Winter Olympics' 'test event', which is going to start in next month, will be demonstrated along with 5G service.
Before this event takes place, '5G Global Summit' that is set up by South Korea to strengthen international cooperation for 5G will take place at the end of this month and will heighten atmosphere regarding 5G.
According to telecommunication industry on the 11th, test events that are to inspect facilities for Pyeongchang Winter Olympics will be carried out through 20 events starting from next month until April of next year. Ministry of Science, ICP and Future Planning (MSIP) and KT are going to discuss with organizing committee of Pyeongchang Winter Olympics and use test event as opportunities to demonstrate 5G service.
Previously, KT demonstrated its 5G service during first test event period that had taken place in early this year. During this test event, KT is going to demonstrate 5G service at stadiums where actual competitions are going to take place. It is predicted that variety of services such as Sync View, 360° VR, hologram live, and 5G safety are going to be demonstrated.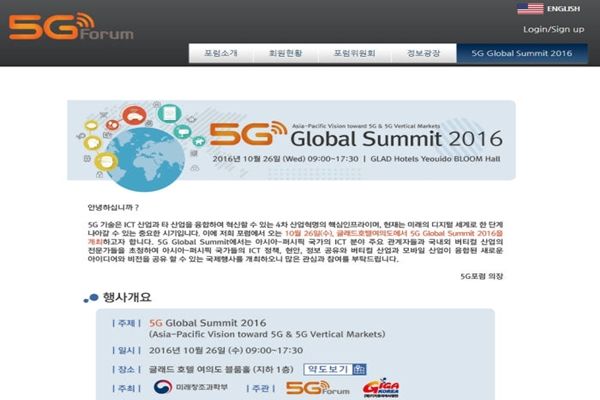 "We are planning to show upgraded Olympic games by demonstrating 5G service at the same time." said a representative for Pyeongchang Winter Olympics' organizing committee. "Although 5G service won't be demonstrated through all 20 games, but it will be demonstrated through many games."
Before test event takes place, '5G Global Summit' that is led by MSIP and held by 5G Forum and GIGAKOREA business group will take place on the 26th of this month. Including South Korea, many experts in 5G in Asia-Pacific regions will attend this event.
At this event, experts are going to discuss policies and pending issues of 5G in Asia-Pacific regions and share new ideas and visions. Director Park Jin-hyo of SK Telecom's Network Technology Institute and Vice-President Thomas of Ericsson are going to make keynote speeches.
At 5G strategy committee that is taking place on the same day, 'Future Mobile Telecommunication Industry Strategy 2.0' that is prepared by MSIP is going to be discussed as the major item. Based on information from discussion, MSIP is going to revise detailed information and is planning to make an announcement by end of this year.
Staff Reporter An, Hocheon | hcan@etnews.com