Samsung Electronics has decided to discontinue Galaxy Note 7 because it believes that it will be difficult to resolve this situation even if it finds the causes of ignition and resumes selling Galaxy Note 7s.
Galaxy Note 7, which made its impressive appearance with high-tech technologies such as iris recognition and others, has become a misfortunate Smartphone that disappeared into history after just two months since it was released. As Samsung Electronics has made such decision, it will be inevitable for Samsung Electronics, its partners, and South Korean economy as well to face after-effects. Samsung Electronics now has to finish up follow-up procedures swiftly and focus on recovering its credibility with next products.
"We adjusted amount of supplies to reinforce management of quality of our products and to make detailed investigations due to recent ignition incidences regarding Galaxy Note 7s." said Samsung Electronics through an inquiry notice on the 11th. "However because we consider our consumers' safety first, we have decided to stop selling and producing Galaxy Note 7s from now on." This indicates that it will not produce any more Galaxy Note 7s.
Samsung Electronics even announced that discontinuation is a right before it made an inquiry notice. When Samsung Electronics announced its decision to discontinue Galaxy Note 7s within just few hours, related industries were in state of shock because Samsung Electronics is world's biggest Smartphone manufacturer and has decided to discontinue its major premium product due to a problem that was raised from it.
It did not even take two days for Samsung Electronics made such decision since American mobile network providers such as AT&T and T-Mobile made announcements regarding stoppage of sales of Galaxy Note 7s on the 9th (U.S. time). After deciding to temporarily stop producing Galaxy Note 7s on the 10th, it decided to stop selling and exchanging Galaxy Note 7s in the morning of the 11th and announced decision to discontinue Galaxy Note 7s in the afternoon of the 11th. Fact that all of these announcements were made so quickly is a circumstantial evidence that situation was that much serious.
Samsung Electronics made such decision before each country's investigation authorities finished making investigations on Galaxy Note 7. Samsung Electronics believes that it will be difficult to sell Galaxy Note 7s again regardless of results of investigations. It has decided that it will be impossible to handle current situation even if finds and corrects problems and sells new product. Some believes that Samsung Electronics will take a serious blow that will be unrecoverable if it resumes selling new product and faces with other problems again.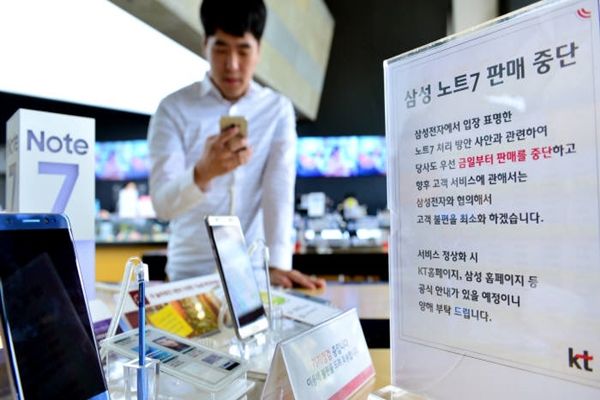 Galaxy Note represents Samsung Electronics' premium Smartphones along with Galaxy S series. Although its targets are limited compared to Galaxy S series, more than 10 million Galaxy Note series were sold since first Galaxy Note was released. Its importance is starting to grow as large screens are being solidified as current trend.
Due to this decision, it is difficult for Samsung Electronics to sell more than 400 million phones by end of this year. It is also predicted that its operating profit in fourth quarter will drop. Arithmetically, 10 million Galaxy Notes that are worth $887.83 (1 million KRW) each are equal to $8.88 billion (10 trillion KRW) in sales. It is predicted that range of reduction in sales due to discontinuation of Galaxy Note 7 will be huge compared to Samsung Electronics' overall sales (about $45.3 billion (51 trillion KRW)) and sales from IM sector (about $24.0 billion (27 trillion KRW)) in second quarter.
Samsung Electronics' partners, which were hoping to avoid worst situation, are devastated. Businesses that had been researching and developing new components for long period of time and produced them are in a situation where they have to find new customers and find ways to get rid of their inventories. It is also inevitable that expansion of financial FinTech based on iris recognition will hesitate little bit.
Dark clouds are also starting to cover South Korean economy as Smartphones greatly affect South Korean industries. Fact that production of semiconductors and production from overall industries showed increase trend by 17.2% and 2.4% in September of last year when Galaxy Note 5 was released is the circumstantial evidence. The Blue House is in deeper is in greater pain as an unfavorable factor coincides with strikes from automotive and railroad industries.
Samsung Electronics has to make a swift settlement to minimize any insecurity and complaints from its customers. Samsung Electronics announced that it will carry out exchange and refund starting from the 13th of October to the 31st of December. Detailed direction on how to exchange phones through mobile network providers is also going to be announced soon.
"Recovering consumers' credibility is the most important thing and Samsung Electronics needs to make swift follow-up actions." said a representative for telecommunication industry. "Samsung Electronics needs to use this as an opportunity to develop products with higher level of perfection."
Staff Reporter An, Hocheon | hcan@etnews.com & Staff Reporter Choi, Jaepil | jpchoi@etnews.com