Fair Trade Commission (FTC) rejected M&A between SK Telecom and CJ HelloVision because it believed that there will be 'severe limitations in competitions' even most areas of CJ HelloVision's broadcasting rights if M&A was approved. FTC made such decision based on fair trade laws and this practically makes M&A difficult to happen since it will be hard for even Ministry of Science, ICP and Future Planning (MSIP) and Korea Communications Commission (KCC) to overturn this decision.
SK Telecom and CJ HelloVision refuted this decision by saying that this move counters basis for easing government's regulations and that it will be difficult to reorganize a structure of broadcasting telecommunication. It is predicted that a battle regarding a problem about shares of paid broadcasting services in certain areas rather than entire South Korea will take place. This now makes harder for variety of industries such as telecommunication, broadcasting and others to converge with ICT (Information Communication Technology) and will cause a controversy regarding a reverse discrimination against global markets for broadcasting telecommunication where M&As are actively taking place. (Refer to page 4 of a related article)
According to a telecommunication industry, FTC ordered stoppage of M&A and acquisition of CJ HelloVision's stocks on its M&A evaluation report that it sent to SK Telecom on previous day due to limitations in competitions. Limitations in competitions indicate a situation where a particular business has dominance in markets due to decrease in elements of competitions in single field.
FTC worried that there will be limitations in competitions if SK Telecom acquires CJ HelloVision since CJ HelloVision has the top market shares in most areas out of 23 areas. According to an evaluation of situation of competition broadcasting markets in 2015, CJ HelloVision had top shares regarding number of members in 19 areas.
FTC believed that not only SK Telecom will secure top market shares in more than 20 areas if number of members from SK Broadband is added, but it will distance itself even further from number 2 business. SK Telecom had 10.9% based on shares regarding number of members for SK Broadband's paid broadcasting service in March of 2015, and this number would add up to 25.7% if it is added with CJ HelloVision's shares of 14.8%.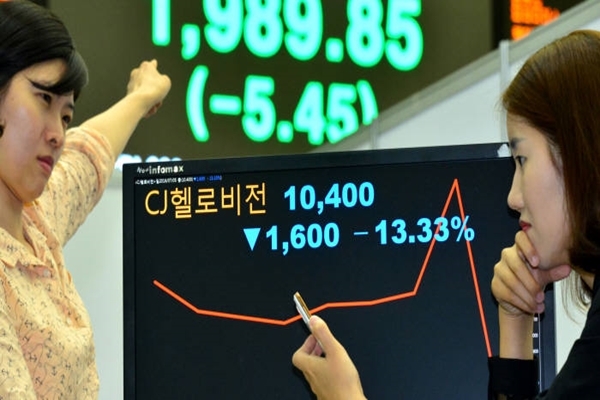 FTC will finalize its decision during a council meeting after receiving materials for explanation from SK Telecom. Although a schedule for a meeting is not decided yet, it will be held during next week at the earliest. Although it is important for SK Telecom to prepare thorough materials for refuting FTC's decision, there is only a small chance that FTC will change its decision during a council meeting.
If M&A is rejected during a council meeting, it will be difficult for MSIP and KCC to overturn FTC's decision. Although these two government departments have actual licensing rights to M&A, FTC evaluated M&A based on laws regarding monopolizing regulations and fair transactions. They cannot ignore FTC's decision that was made based on their laws.
SK Telecom and CJ HelloVision are devastated about FTC's decision because although there were times when FTC rejected M&A, there weren't that many. In March of 2014, FTC rejected a request from Essilor, which is the top business in lenses for glasses, to acquire Daemyung Optical, which is the number 2 in South Korea. However FTC allowed all major M&As regarding telecommunication broadcasting field by adding its authorization.
It is predicted that there will be backlash from industries. Cable TV industries criticized this decision by saying that this hurts consistency of a policy that eases regulations through competitions and increases difficulties for paid broadcasting services. They argued that caring about shares per areas is a contradiction since it controls small and medium cable industries even more than IPTVs that provide services to entire South Korea.
SK Telecom is going to submit its materials for explanation and do its best to make M&A happen. However it is predicted that it will be inevitable for FTC to avoid criticisms that it wasted time since it is predictable that limitations in shares can be seen as a decision that is made after thinking for 7 months. Many people within SK Telecom and CJ HelloVision believe that SK Telecom and CJ HelloVision should give up on M&A.
Staff Reporter An, Hocheon | hcan@etnews.com