Technology that can double coverage of maritime LTE up to 200km has been developed. It is predicted that maritime safety will be more enhanced as LTE communication is now possible in wide range of sea that goes from coast of Gangwon-do to Ulleung-do. KT has developed OTHAD (Over The Horizon Antenna Distribution) that is based on 'LTE Time Advanced' technology and announced that it has succeeded in increasing LTE coverage for seas up to 200km without repeaters.
Currently LTE is covered up to 100km from land without using repeaters. To secure more coverage, repeaters for ships are needed. 100km is a technology that is used by mobile telecommunication businesses for Tongyeong, Donghae Harbor, Ulsan Harbor, Jeju Harbor and others and is based on LTE-M technology that is used for e-Navigation.
KT has increased LTE coverage by using LTE Time Advanced technology and OTHAD. LTE Time Advanced is a technology that improves processing of wireless signals and methods of reception. It automatically adjusts synchronization timing between a device and a base station depending on a distance and it connects a device and a base station even from a long distance. OTHAD maximizes level of perfection of reception and transmission of data and minimizes in long distance through a formation of antennas.
KT installed OTHAD at Halla Mountain and succeeded in making a LTE-based voice call to an ocean research station located in Ieodo, which is located 185km southwest from Halla Mountain. Ieodo, which had depended on satellite calls, now can send a clear emergency situation and request for rescue and has an environment where people can enjoy internet whenever.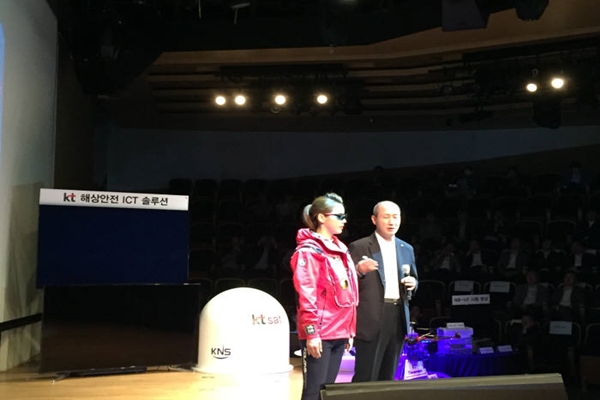 KT also installed a system at Taebaek Mountain and secured LTE coverage that goes from coast of Gangwon-do to Ulleung-do. Free data communication service is now possible on major sea routes and fisheries that are located within 200km from coast, which did not have access to LTE service without repeaters.
KT also introduced 'IoT Life-Tech Jacket Marine', which will strengthen maritime safety. Locating survivors on seas is difficult due to ocean current and looking for them is also difficult since distance of identification is short during night time. To solve such problems, KT had worked with KOLON Industry Co., Ltd. and have developed IoT Life-Tech Jacket Marine.
This jacket can be used as a normal outdoor jacket. Once a person falls in water, a life tube automatically expands as a sensor that detects water pressure operates. Since IoT modules are installed within this jacket, location of survivors and status of health such as heartbeat can be checked periodically from situation rooms. This jacket uses KT's IoT platform called 'IoT Makers'.
"IoT Life-Tech Jacket is the most innovative model out of 'Extreme Life-Tech' series that has been made by KOLON." said Executive Director Yoon Jae-eun of KOLON Industry Co., Ltd. "Not only will we develop products for mountainous areas, but we will work with KT to continuously develop products that can take responsibilities of safety on seas."
"Maritime safety is important as there were 900 maritime accidents and 2,000 casualties in last year." said Director Oh Seong-mok of KT Network Sector. "Wide coverage, information of location, and IoT device are needed for maritime safety and we can now provide safe telecommunication on most of coast in South Korea through our technology that was announced today."
Staff Reporter An, Hocheon | hcan@etnews.com