KT has announced that 'KT Pyeongchang Standards for 5G Technologies' that it recently introduced at The Korean Institute of Communications and Information Sciences will be 5G standards that will be used during 2018 Pyeongchang Winter Olympics because it will be difficult to develop new standards when Olympics is going to be held in less than 600 days. Starting from next year, KT will install network and carry out tests for devices and is hoping to have a successful demonstrative service of its 5G technologies.
According to KT's 5G standards that was exclusively read by The Electronic Times, they were composed in complicated method of upper standards such as 28GHz bandwidth, 8 MIMO (Multiple-Input Multiple-Output), Dynamic TDD (Time-Duplex Division), hybrid beamforming and others that were reported by The Electronic Times and detailed standards that are established to implement these upper standards. These 5G technologies were finished with development in March of this year.
KT and its global partners already have started on developing and designing 5G technologies. When equipment is developed, KT will install network by either June or July of next year. Due to regulations, it needs to set up a network a year before Olympic starts.
However since there aren't standards for 5G yet and since 5G is a new technology, KT is currently working with IOC (International Olympic Committee). It seems that devices that will be used for 5G service will be supplied before October of next year and new devices that can support capacity and speed of 8 antennas are needed. Design of chips also needs to be different and these chips will be supplied by other businesses including Samsung Electronics.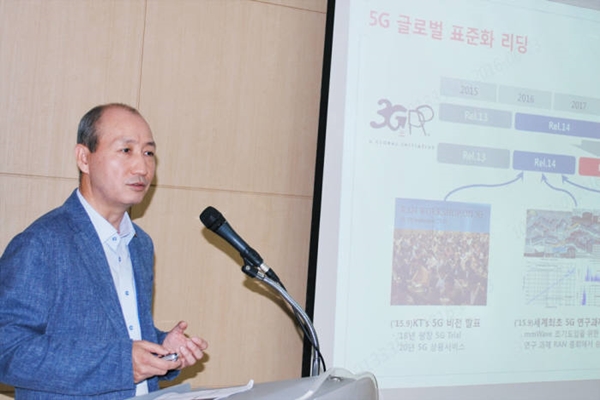 In February of next year, KT is going to carry out a second demonstration in regions where Olympic is going to be held. KT introduced a first demonstration such as hologram live, Think View and others in February of this year and is going to demonstrate more diverse services based on equipment that has higher level of perfection during its second demonstration.
"Since it is difficult to change standards due to schedules, these current standards have to be official standards for 5G service during 2018 Winter Olympics." said Director Lee Yong-kyu of KT Network Strategy. "We are going to make sure that this 5G service won't have any problems by working on developments as fast as we can."
KT has developed standards for 5G technologies by working with South Korean and foreign businesses. KT made agreements with them so that a participant cannot show standards. Although development is finished, KT cannot introduce its technologies to industries. Depending on the time when these standards are introduced, interests between participating businesses will become different.
"Competition between global telecommunication businesses on capturing the leadership in 5G service is very fierce as Verizon is looking to develop technologies so that it can commercialize 5G in 2017." said Professor Hong In-ki of Kyunghee University. "Even positions between telecommunication businesses, equipment providers, and chip manufacturers within each country are very sharp."
Staff Reporter An, Hocheon | hcan@etnews.com