Pantech is coming back as a venture company by introducing SKY 'IM-100' on the 22nd. This will be its new product since it released Pop-Up Note about 19 months ago. After going through many ups and downs such as corporate workout, legal managements, and three founders of M&A, it is finally under operation again.
IM-100 is SKY brand that has come back after 4 years. A reason why Pantech chose SKY instead of Vegas as its first product from a comeback is because it wants to stimulate people's memories of Pantech and bottle up its intention of a comeback. 'Polished moderation' and 'analog feeling', which are philosophies of SKY's design, are implemented in IM-100.
Store price of IM-100 is $391 (449,900 KRW) and it has a simple design as it does not have any logos of manufacturers or mobile telecommunication businesses. Wheel button, which is located on the bottom right of a phone, is used for many purposes. Its body is made up of white and black metal tones.
Its thickness and weight are 7.8mm and 130g respectively. It uses Qualcomm's Snapdragon 430 and 5.15-inch Full HD LCD as its application processor and display respectively and uses all-in-one 3000mAh battery. It has 32GB of memory and 2GB of RAM. Just from looking at its specifications, it looks similar to Samsung Electronics' Galaxy J5 or LG Electronics' K10.
Pantech has differentiated IM-100 by installing a wireless charge and audio functions and Bluetooth speaker called 'STONE' that cannot be seen in any other inexpensive phones. One can adjust a volume in 100 different levels with Wheel Key. 'One Player', which plays music from any screen, also captures people's eyes.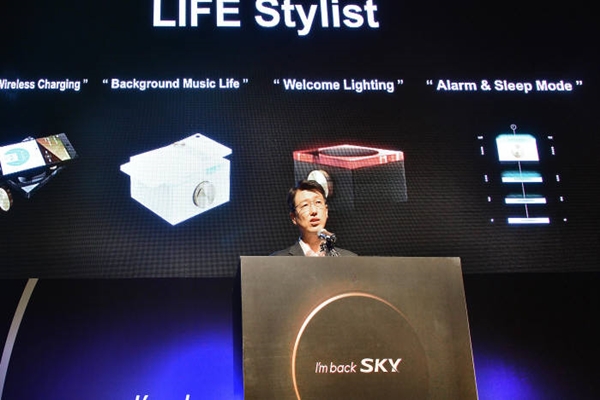 STONE, which is provided in a bundle, is an IoT device that considers lifestyles of customers while acting as a wireless charger. By connecting to an exclusive application, one can easily play music or turn on a mood lamp. Welcome lighting that turns on automatically when a person comes back to his or her house from an outing and a function that turns on an alarm in every 5 minutes from 30 minutes before a person wakes up to go to work show Pantech's hard work in focusing on personal lives.
"IM-100 is not a product that shows the resurgence of Pantech, but it rather holds Pantech's earnest feeling of being a friend to customers in their daily lives." said President Moon Ji-wook of Pantech.
IM-100 will be released by SK Telecom and KT on the 30th. One can purchase it for about $174 (200,000 KRW) if he or she receives funding. Pantech's goal is to sell 300,000 copies and it will start its after service from 65 major centers in South Korea. It is going to slowly increase this number as more copies are sold.
"We are increasing number of point of contract with our customers and are preparing a mobile AS to increase level of satisfaction at the same time." said President Moon. "We are going to establish an optimized AS system that combines parcel service and rental phone service."
Pantech had not been under operation for more than a year. Even if IM-100 is successful, many think that it will be difficult for Pantech to regain its reputation in short period of time since there are so many obstacles that it needs to overcome such as intensified competition between inexpensive phones. However industries are welcoming Pantech's resurgence with an open arm due to a fact that Pantech increases range of choices for customers and invigorates South Korea's cellphone markets that are dominated by three cellphone manufacturers.
Staff Reporter An, Hocheon | hcan@etnews.com