SK Hynix has presented its D-RAM technology as international standards to respond to 3D CrossPoint Memory of Intel and Micron. Although its technology is slower compared to widely-used D-RAMs, it can greatly increase capacity and decrease production cost.
Department Head (Executive Director) Kim Jin-kook of SK Hynix D-RAM Technology Headquarters made such announcement after he was invited as a speaker for Korea Semiconductor Test Association that was held at TheK-Hotel on the 21st.
Official name of a technology that SK Hynix is pushing for is 'Managed Dram Solution (MDS)'. "Because Intel's 3D CrossPoint Memory is a product that combines strengths of D-RAM and NAND-Flash, particular server markets can be encroached when a solution that can be used by just plugging into a slot for D-RAM comes out." said Executive Director Kim. "To respond to this, SK Hynix is going to present MDS to JEDEC (Joint Electron Device Engineering Council." He also added that SK Hynix is planning to commercialize this technology in 2018 and standardize it after persuading chip-set industries.
According to him, MDS uses Logic Chip and can overcome expensive cost and nonvolatility that are weaknesses of widely-used D-RAMs. Although a method of technology has not been shown in detail yet, experts predict that this technology will implement high capacity by combining many D-RAMs logically with Logic Chip.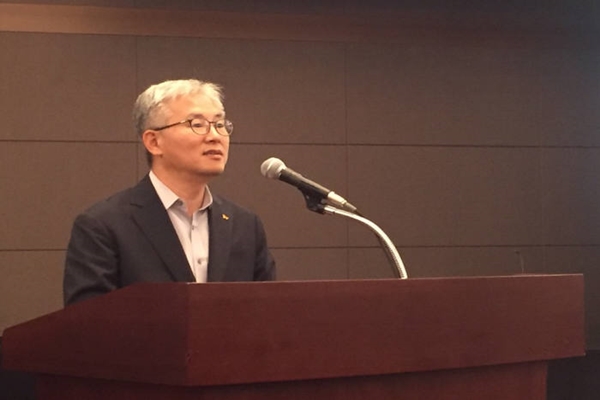 Intel is planning to go after SSD (Solid State Drive) and NVDIMM (Non Volatile Dual In-line Memory Module) markets with its 3D CrossPoint Memory along with Micron. South Korea's D-RAM industry is fearful that NVDIMM markets can be encroached by Intel. NVDIMM indicates a hybrid memory module that combines non-volatile memory such as NAND-Flash with DIMM Module that is placed by D-RAM. It can safely save and recover data when there is a sudden power outage and it is basically a D-RAM module with a backup function.
When this kind of product is used, theoretically a system operates even without D-RAM. Although speed is definitely slower than widely-used D-RAMs, it will be able to encroach current D-RAMs from certain server markets that require high capacity and nonvolatility. MDS is SK Hynix's measure to prevent such attacks from Intel.
Executive Director Kim also mentioned about a process of 10-nano D-RAM technology. "Although buried gate method will be used until 10-nano D-RAMs, structure needs to be changed afterwards." said Executive Director Kim. "Major focus is to maintain economical profit while changing a process." He is indicating that changing a process while not reducing production cost is meaningless.
Staff Reporter Han, Juyeop | powerusr@etnews.com