After The Electronic Times Co., Ltd.'s 1st ICT (Information Communication Technology) Baduk Competition took place, South Korea's IT and Baduk industries are working on manufacturing South Korean AlphaGo.
They are thinking about incorporating prior information of data, advices from professional Baduk players and others to build South Korean AlphaGo. Development of Baduk algorithm that is linked to Baduk industries is already taking place in China and Japan.
According to Korea Baduk Association on the 17th, it had discussed about joining hands in upgrading South Korea's Baduk AI algorithm called 'Dol Baram' at a steering committee that had taken place on the 16th. Dol Baram proved its success by winning three out of four matches at ICT Baduk Competition. "Dol Baram's ability is same as an ability of a top amateur player." said Baduk PD (7-dan rank pro) Kim Kang-geun of NHN Entertainment HanGame. "There are only 3 points differential between Dol Baram and a pro player."
"We have not prepared any detailed methods or plans yet." said a representative for Korea Baduk Association. "Our method of support is not too difficult. Because it is meaningful from an aspect of improving competitive edge or added values in industries, we will look for ways of working together."
It is meaningful that even Baduk industry is showing interest in AI and had discussed about cooperation in building South Korean AlphaGo. Enormous amount of data learning had huge effect on helping AlphaGo to secure level of Baduk that is equal to level of a top pro Baduk player. It took data from 160,000 amateur matches from Japan's KGS site and had learned it on its own.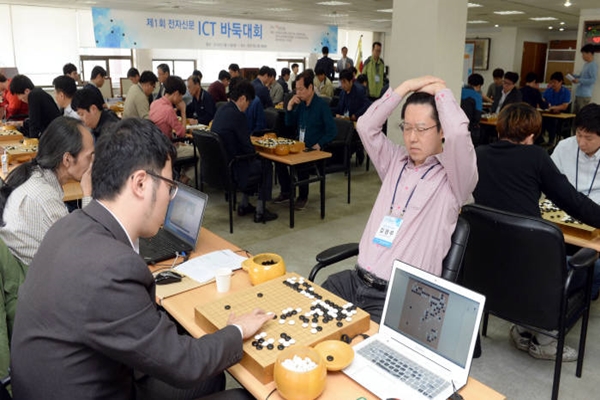 There are many problems such as copyrights and others to solve in order to secure excellent data. It is hard if enormous amount of funding like Google had prepared for AlphaGo is not guaranteed. However if Korea Baduk Association cooperates, it becomes easier to secure data from South Korea's Baduk players and is also possible to receive advices from pro players during a process of development.
Securing computing power that will support SW is another task for Korea Baduk Association. Google had used 1,202 CPUs and 176 GPUs to support enormous amount of arithmetic calculations of AlphaGo. However NuriGrim, which is the developer of Dol Baram, is a small company and it will be hard for NuriGrim to allocate HW without any support from businesses or South Korean Government.
"Dol Baram's computing power is little bit better than PCs." said Director General Seo Seok-jin of Software Policies (leader of Ministry of Science, ICP and Future Planning's Baduk players) at ICT Baduk Competition's award ceremony. "We are going to continuously have Dol Baram participate in competitions after strengthening its computing capability by using Cloud and others and upgrading Dol Baram."
Development of Baduk AI will be useful in developing and educating Baduk industries. Unlike the U.S. and England that had developed AlphaGo, there is a high chance that this will not end as one-time event in South Asian countries since popularity of Baduk is high there. China and Japan are already developing Baduk AI by working with their corresponding Baduk associations. Plans of developing Chinese Baduk AI came to surface at a gathering where China Baduk Association and China Artificial Intelligence Society gathered at the end of March of this year. Zen, which was co-developed by Tokyo Graduate School's AI research team and Tokyo Baduk Association, is being upgraded in Japan.
"Moves that were seen as bad moves by human during matches between Lee Se-dol and AlphaGo had become winning moves." said Team Leader Kim Seung-dong of NuriGrim's Planning Team. "There is a high chance that AI will be used in educating Baduk or developing new Baduk strategies."
Staff Reporter Oh, Daeseok | ods@etnews.com