"It is still too much for artificial intelligence (AI) to follow human's intuition and senses" said Lee Se-dol who is a 9-dan rank Go (Baduk) player before his match against AlphaGo. "However difference between human and AI is not too far off."

Google had held a press conference for 'DeepMind Challenge Match' at Four Season Hotel, which is located in Gwanghwamun, Seoul, on the 8th while Chairman Eric Schmidt of Google AlphaGo, CEO Demis Hassabis of Google DeepMind, and Lee Se-dol were in attendance.

"Match against AlphaGo will write a new history in AI's history." said Lee Se-dol. "This is the first step towards battles between mankind and AI." He also said that he is grateful to participate in this meaningful match and that he will return a favor with good and beautiful Go.

Regarding AlphaGo's abilities, Lee Se-dol showed more careful approach than before. While he is still showing a ton of confidence, he said that he still needs to be careful. "I believe that there is more chance that I won't win all 5 games against AlphaGo." said Lee Se-dol.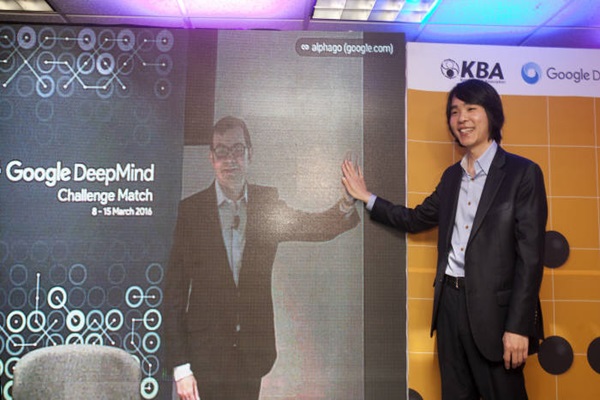 "Although I believe that it is still too early for computer AI to follow human's intuition and senses, it is possible for AI to imitate somewhat." said Lee Se-dol about AI's capabilities. This explains that there isn't too much difference between mankind and AI than he expected.

Lee Se-dol explained that it is not easy to prepare for a match against a machine and not a person. "Although I had had many matches in the past, this strange feeling is the first time that I am feeling." said Lee Se-dol. "It feels very new and I feel great about this match."

"Because AlphaGo is not a person, preparation has been different." said Lee Se-dol. "While it is important to read an opponent's feeling or spirit in Go, this match might feel like I am playing Go by myself." He also added that he had tried to overcome that feeling by having virtual training for about an hour or two every day.

"We have not done any special training to prepare for a match against Lee Se-dol." said CEO Hassabis. "We've created high quality of data by accumulating data from self-study."

Staff Reporter Lee, Hojoon | newlevel@etnews.com