Samsung Electronics has applied Quad-Edge Display that can not only implement curved surface on the left and right side of a panel, but also its top and bottom to its new Smartphone 'Galaxy S7 Edge'. It decreased non-operating area by 40% compared to its previous model to minimize bezel so that Galaxy S7 Edge can look sleek and fit right into a person's hand.

Samsung Display (CEO Park Dong-kun) introduced recent display technologies that are applied to Galaxy S7 and Galaxy S7 Edge on the 7th. The fact that Samsung Display used Edge AMOLED Display Panel technology that has one of its sides bent and that it used Quad-Edge Display that has all 4 sides bent has gained attention from many.

One can see that top edge and bottom edge of a flexible panel, which reminds of a bookmark, starts to finely bend by 25R if he or she examines the interior of Quad-Edge Display. Curved line continues gradually till the end of a cover-glass that protects display.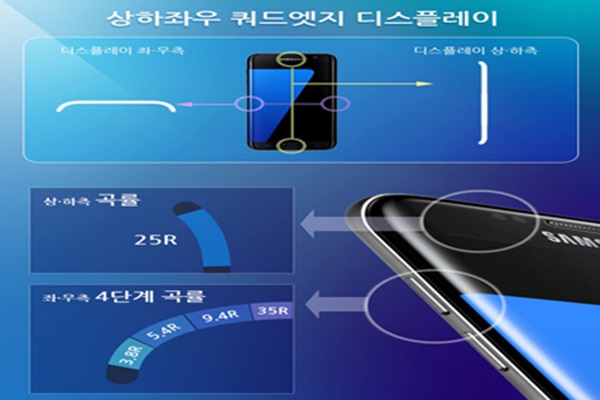 To implement curved surface that continues naturally from the middle of a panel to left and right-side of a panel, Samsung Display has applied 4 different steps of curvature. It has finely applied 4 different curvatures of 345R à9.4Rà5.4Rà3.8R, in which level of curvedness is more steep as R becomes smaller, so that Galaxy S7 Edge can implement smooth curvaceousness and sense of convenient grip.

Samsung Display has applied curved process technology with perfect curvature to its flexible displays. Based on Flexible AMOLED technology , which was mass-produced for the first time in the world in 2013, Samsung Display has finally introduced Quad-Edge Display.

Fact that Samsung Display has minimized display's non-operating area (Black Matrix) to minimize bezel also caught attention from many.

To decrease Smartphone's bezel, non-operating area excluding display's surface needs to be minimized. Electrodes, circuits and others are needed to operate displays. However as display's resolution increases, non-operating area increases also since number of electrodes increases and structure of circuits becomes more complicated.

Samsung Display has decreased bezel of Galaxy series little by little every year by using a design technology and ultra-fine process that minimizes non-operating area while increasing display's resolution.

Although Galaxy S6 and Galaxy S7 have same resolution of QHD, non-operating area has decreased about 40% from 1.25mm to 0.78mm. Samsung Display was able to remove interference phenomena by decreasing overall non-operating area, which is done by reducing spacing between circuits.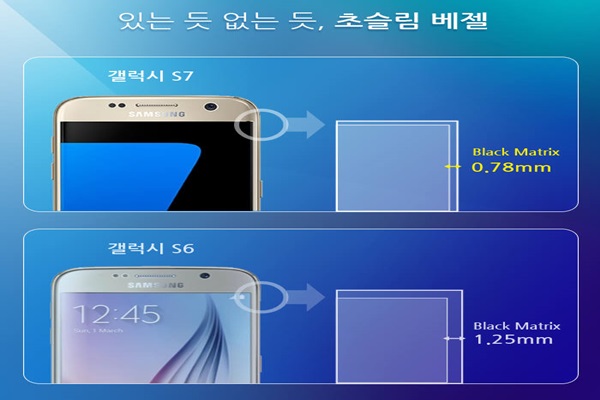 Samsung Display also greatly improved performance of camera and battery.

Galaxy S7 and S7 Edge have incorporated Dual-Pixel Image Sensor which is done for the first time to a Smartphone. Even when intensity of illumination is low just like it is at night, one can take clear and bright pictures.

A problem with a camera is that area of a display becomes smaller as camera's performance becomes better as this can lead to parts being complicated and bigger. Samsung Display prepared 8.6mm groove with a shape of 'U' on top-right of Galaxy S7 Edge's panel and installed Smartphone camera there.

By cutting part of a panel that is close to this space, Samsung Display has completely changed design of panel. Samsung Display has moved electrodes and circuits that are supposed to be at this space to another location.

Samsung Display has also added cutting process that can prevent panels being cracked so that it can finely cut panels in a constant size.

Staff Reporter Bae, Okjin | withok@etnews.com