Cyber professional officers that will protect South Korea from hacking attacks from North Korea will emerge for the first time.

Korea University's Cyber National Defense Department is going to produce its first graduates on the 25th that will be commissioned as professional cyber officers. They are going to be first officers after Ministry of National Defense and Korea University established this department in 2012. This department was made when people were calling for heightened security of national security as cyber terrors such as DDoS (Distributed Denial of Service) attack on the 7th of July in 2011, paralysis of Nonghyup's computer network and others were taking place.

In past 4 years, Korea University had selected excellent students and educated them on best defense and offense technologies based on overall information protection. Professional cyber officers are advanced guards that will protect national cyber security and will be used to detect and respond to North Korea's cyber attacks, which are bringing more tensions to South Korea, in advance. South Korea Army is going to use them for national defense's informationalized businesses and others and establish and carry out higher security measures. When there are cyber attacks, South Korean Army is not going to depend on outside service businesses, but it is going to form its own task force and respond to those attacks while maintaining army's secrets. These officers will also develop solutions that are necessary to protect national defense's IT information.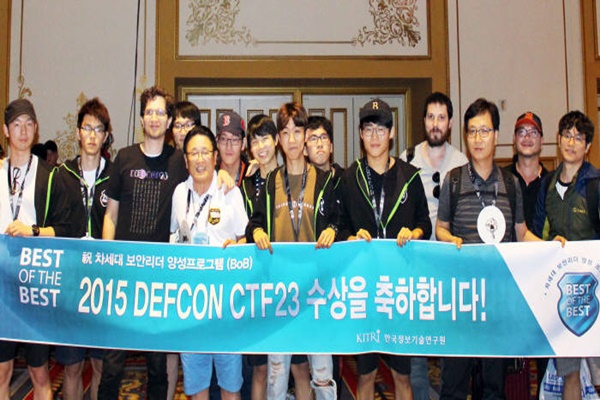 Professional cyber officers had also played huge roles in resurrecting science and engineering departments. Cyber National Defense Department has emerged as the best department in science and engineering departments in just 4 years. Cut line for this department in national college entrance exam was also the highest out of any other science and engineering departments. Many talented people had gathered in this department while passing over computer engineering department and electronic engineering department of Seoul National University, Yonsei University and others and also few medical universities. Students who did not know anything about hacking or cyber security also have grown as top experts after studying in Cyber National Defense Department.

Students from this department had swept through variety of content exhibitions and global hacking competition in past 4 years. Students had participated in these competitions after forming a hacking club called CYKOR. These students won the 1st prize from 'DEFCON CTF 2015' which is the most prestige global hacking competition. Centered on CYKOR, DEFKOR Team that had Lee Jung-hoon, Lee Jong-jo, Cho Joo-bong and other hackers had marked their presence in South Korean team's history. It was the first time that a South Korean team won this competition, and students from Cyber National Defense Department was in perfect order in this tournament by forming a defense and an offense team according to this competition.

Even after this, they won 1st prize in 'Trend Micro CTF 2015' that was held in Tokyo, 'HDCON 2015' that was held in South Korea, and 'HITCON CTF 2015' that was held in Taiwan. It also won 1st prize in 'SECCON' that was held for the first time in Japan. They had also shown their performance in variety of contest exhibitions. They had swept through National Cryptography Technology Competition in 2012 and National Cryptography Contest Exhibition in 2013, 2014, and 2015.

"We have promoted professional cyber officers that have top defense and offense technologies by working with national organization for the past 4 years." said Professor Lim Jong-in of Korea University's Cyber National Defense Department. "We had carried out educations that are appropriate in improving national defense security and guaranteeing national security in this day and age where number of cyber terrors is rapidly increasing."

History of Korea University's Cyber National Defense Department

6/28/2011: Korea University agrees with South Korean Army about establishing Cyber National Defense Department

3/1/2012: First class of students enter department

3/1/2013: Second class of students enter department

3/1/2014: Third class of students enter department

3/1/2015: Fourth class of students enter department

2/25/2016: First class of students will graduate

Staff Reporter Kim, Insoon | insoon@etnews.com