South Korean memory industries are mass-producing 14-nano flat NAND-Flash. Samsung Electronics is already mass-producing it while SK Hynix is planning to finish developing it in 2016 and enter mass-production system.

Japanese and American memory industries have no plans to upgrade their technologies however. Toshiba proclaimed that it will not develop any more flat products after 15-nano. Micron along with Intel are planning to focus their capabilities on '3D Cross-Point' which is type of P-RAM (Phase Change RAM) that they developed.

According to industries on the 28th, Samsung Electronics finished development process and is going to mass-produce 14-nano flat NAND-Flash in first half of 2016. It is planning to introduce finished 14-nano NAND-Flash at International Solid-State Circuits Conference (ISSCC) that will be held in San Francisco on the 31st of January.

Compared to other 16-nano products, area of Floating Gate of Samsung Electronics' 14-nano NAND-Flash is decreased by about 12.5% and this leads to reduction of area of Silicon Die also. This indicates that amount of NAND Chip that can be produced from a sheet of wafer will increase and production cost will decrease.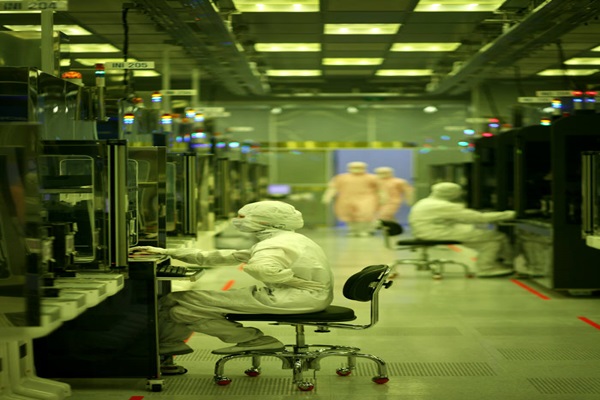 SK Hynix, which is currently mass-producing 16-nano products, has started developing 14-nano NAND-Flash starting from this year. It is heard that it will try to finish developing it by first half of 2016 and start mass-production process by end of 2016.

NAND-Flash separates 0 and 1 by using a method that either saves or takes away electrons from Floating Gate. If area of Floating Gate gets reduced by narrowing line width of circuits, then number of electrons that can be saved also decreases. While number of electrons that 15 to 16-nano NAND-Flash can save into Floating Gate is under 10, number of electrons for 14-nano is even smaller. If there is lesser room for electrons, then there will be lesser errors when data is read and written. This is why there were predictions that 15 to 16-nano NAND-Flash will be last process for flat NAND-Flash product lines. A reason why Toshiba, which is the original NAND-Flash developer, decided not to develop any more flat products after 15-nano NAND-Flash is due to structural limitations. However when there were news that Samsung Electronics had started to develop 14-nano NAND-Flash, experts said that Samsung Electronics broke through unbreakable barrier.

Another point to look at is whether or not Triple Level Cell (TLC) product, which can save 3 bits per cell, can be produced from 14-nano flat NAND-Flash. Although there are many beliefs that it will not be easy since number of electrons that can be saved is low, production cost per capacity can be reduced even more if it can be developed. 14-nano flat NAND-Flash that is developed by Samsung Electronics is Multi Level Cell (MLC) 128Gb product that can save 2 bits per cell.

"Flat NAND-Flash was able to extend its life as Samsung Electronics was able to develop 14-nano NAND-Flash and as SK Hynix is currently developing 14-nano NAND-Flash." said a person from memory industry. "However since it will be difficult to overcome structural limitations of Floating Gate after 14-nano NAND-Flash, products that have 3D layered methods will emerge as main NAND-Flash products."

Flat NAND-Flash is loaded into embedded Multi-Media Card (eMMC) and Universal Flash Storage (UFS) that are loaded into Smartphones and tablets. Although 3D NAND-Flash that has a layered structure is widening its application range by being loaded into Solid State Drive (SSD) and others, flat products are still the main products that are responsible for most of sales.

Staff Reporter Han, Juyeop | powerusr@etnews.com