A generation where one can check his or her identification by using voices that are characteristically different per person is coming. Following fingerprint, iris, face and others, voice biometric authentication is the next technology that will identify an individual.

Bridgetec (CEO Lee Sang Ho) joined with Nuance, which is a global business that specializes in voice recognition, to start 'Voice Biometrics' service that can check one's identity by analyzing a voice of a person that is talking.

A process of logging onto internet banking using official certificate or ID and password can be replaced with voice. For example, a process of identification can be done by saying 'My voice is my password' after starting Smartphone banking app and clicking on voice authentication button.

Bridgetec and Nuance are providing a solution. Bridgetec provides solutions when an individual financial organization or single sign-on (SSO) center is made. If financial industries establish SSO center for biometric information together, they can provide a convenient environment where information can be linked and used safely. Bridgetec is hoping that security and efficiency will increase if SSO center are co-made by financial industries instead of having a certain financial company building an authentication center.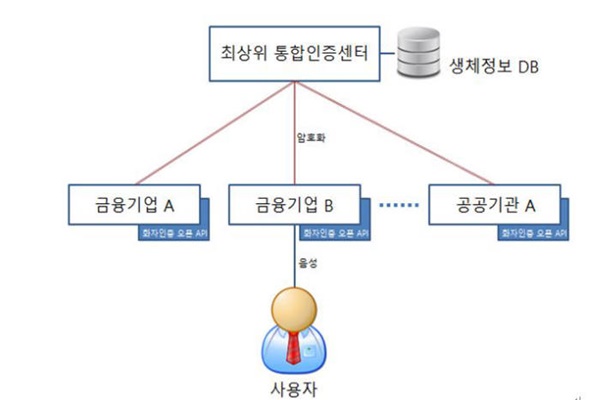 SSO center manages biometric information in bulk so that a service provider does not have to save biometric information separately. Users can also register their voice biometric information that is registered in SSO center so that a particular business can use it. Users' voices that are saved in SSO center are coded using open application program interface (API) and sent to service providers.

A method to input one's voice authentication is very simple. There is no service restriction because microphones are built in many equipment such as PCs, laptops, Smartphones and others. Voice authentication analyzes users' voice prints and speed of vocalization, intonation and any other patterns. Even when a voice is imitated, it cannot be authenticated. Bridgetec and Nuance prevent any impersonation by analyzing voice of each individual in detail. Even when an authentication is done by recording an individual's voice, it is blocked off by Playback Detection Algorithm.

Nuance is a number 1 business in voice recognition solution market, and Bridgetec is a call center solution business. Both of these companies once had experiences providing voice recognition automatic system to call centers from banks, card businesses, financial businesses, insurance companies, telecommunication businesses and others. Voice authentication using Nuance's voice recognition engine is currently being used at US Banks and ING, VanGuard, Australia's National Tax Service and others.

"Financial committee is planning to establish Fintech408 open platform that is to be used by all of financial industries by first half of 2016, and many other organizations are also looking for business models through online biometric authentication. Voice authentication will emerge as a new method since there are no restrictions in any cellphones and it is easy to use." said a person that is affiliated with Bridgetec.

Staff Reporter Kim, Insoon | insoon@etnews.com