This year, the mobile game business becomes borderless.

The 'Global One-Build' strategy, which services a single version in Google and Apple App Store, is expected to become the general trend. It is the aftereffect of the fact that last year business profits of major companies varied depending on global market performance.

On March 9th, according to the five listed companies, Com2uS,Gamevil, Sundaytoz, Devsisters, and PATI Games, most of their releases for the first half of the year were focused on the global market. There are no releases that are regionally limited to domestic regions, or otherwise, they are minimized to pendency.

Starting from 'East Legend,' Com2uS is planning to release 'Wonder Tactics' and more in the global one-build version during its second quarter. Only special cases such as 'Com2uS Professional Baseball 2015' are limited in their release to domestic areas.

Gamevil releases 'Be a Star(Domestic Kakao Game Release),' which was a hit in Korea last year, in its global version, and 'Zenonia Online' and 'MBL Perfect Vision 15' in global one-build.

PATI Games will launch 'I Love Pasta' in the Chinese market. Recently, tests with the local publisher, Tencent, have been finished and thus, service is expected to be available in the first half of the year. Besides, 'Infinite Breakthrough Samgukji(Domestic Kakao Game Release)' will be shown in its 'global version.'.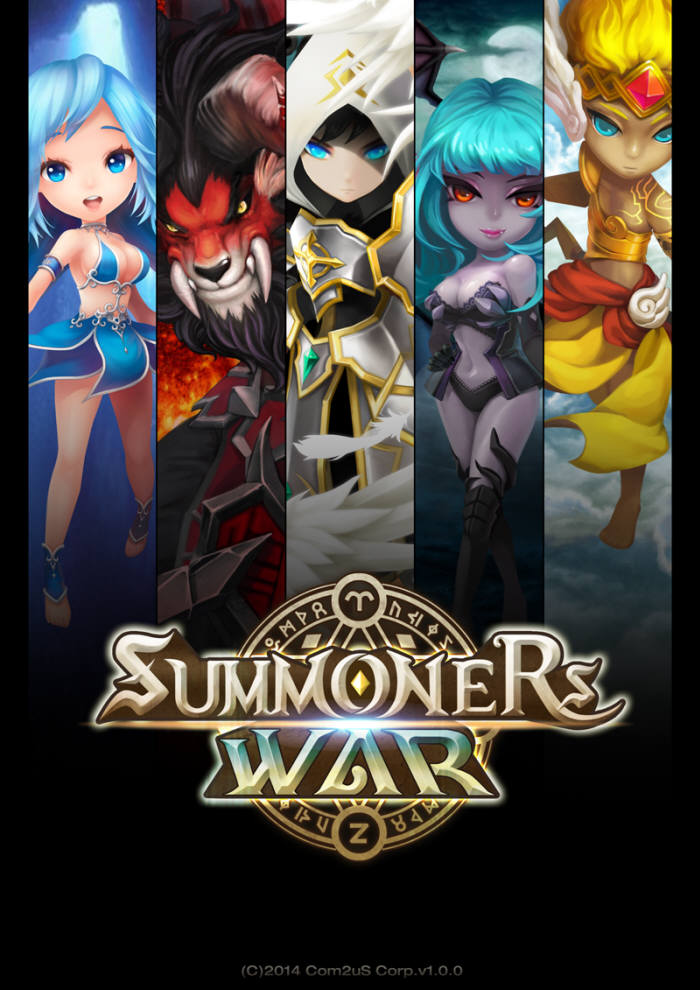 Sundaytoz will enter the Chinese market with its new game in the first half of the year. Global service regions for 'Anipang 2' are planned to be expanded. Devsisters also targets the world market through the global one-build strategy, such as directly servicing 'Cookie Run 2' in the Chinese market.

The 2014 business profit rate of change of the five listed mobile game companies in comparison with that of 2013 were 1209%(Com2uS) increase at the highest and -96.4%(PATI Games) decrease at the lowest.

Since most of the five firms' sales went up, they gained the benefit of mobile game market expansion. However, outcomes greatly varied according to business contents.

Global results had a crucial effect on business profits. Com2uS gained a business profit of 101.2 billion won in 2014, an increase of 1209% compared with the previous year.

That is all thanks to the success of global one-build games such as 'Summoners War' and 'The God of Fishing.' Foreign sales of the company took up 73% in 2014.

Gamevil, the fellow subsidiary of Com2uS, also had sales of 145 billion won in 2014, which was its highest ever. However, business profits rather dropped by 6.2% compared with 2013.

The company's best hit last year was a publishing game called 'Be a Star,' which was released via 'Kakao Games' in February in Korea. In this structure, Daum Kakao takes 21% of sales. Gamevil's foreign sales take up less than 40%.

According to market research institutions, AppLift and Newzoo, the world mobile game market was at a scale of 21.7 billion dollars in 2014, which is about 8 times the size of the domestic market.

Kyobo Securities researcher, Lee, Sung-bin said. "Through the success of 'Summoners War' and more, it has been proven last year that global releases are not very difficult, and once they succeed, a large profit can be gained." He analyzed that "From a mobile game company perspective, it is most likely that games will be released in global one-build and marketing investments will be focused on responsive regions." Researcher Lee also added that "business areas of domestic mobile game companies are becoming borderless."

◇Terminology Explanation: Global One-build Game = Not releasing various versions for each Messenger Platform Operator, but simply releasing a single version on Google, Apple, etc.