Samsung is planning to strengthen its business for OLEDs that are used for monitors or laptops. Industries are paying careful attention towards this move by Samsung as it is trying to expand its OLED business that has been focusing only on Smartphones in the past.
Recently Japan's JOLED started producing small and medium-sized monitors for experts through a high-tech process technology called inkjet printing method and this has Samsung Electronics deeply think about possible countermeasures. It will be important to secure competitive edge in price of OLED business for IT panel while competing against LCD business.
According to industries on the 15th, Samsung Display and Samsung Electronics are researching on innovative ways for production in order to apply OLEDs to IT panels for tablets, laptops, and monitors that are smaller than 30 inches. It is likely that research will become active as Samsung recently introduced Kateeva's small inkjet printing pilot equipment.
Samsung Display also delivers 6-inch OLED panels, which are usually supplied for Smartphones, for tablets and monitors. They were used for Samsung Electronics' Galaxy Tab S3', LENOVO's laptop called 'X1 Yoga', and Dell's 'Ultra Sharp UP3017Q'.
Although Samsung has expanded application of OLED to markets for IT panels, supplies and prices have been dragging its OLED business back. Fact that number of demands for small and medium OLEDs has increased rapidly from many Chinese Smartphone manufacturers and Apple has also influenced its OLED business. It is very difficult for Samsung to increase amount of supplies of IT panels that are 10 inches or bigger while it is in a tight situation with amount of supplies of OLEDs that it has to supply for Smartphones.
Fact that OLED costs more than LCD has acted as another burden. Most of IT products with OLED panels that appeared this year are made to differentiate themselves by targeting premium markets or experts. Because they are considered as first IT products with OLED panels and not many of them are produced, it is inevitable that difference in unit cost between OLED and LCD is huge.
Recently Samsung has been very active on R&D that will reduce production cost and optimizes OLED to IT panel. This is why its interest has grown towards inkjet printing that is considered as one of next-generation's OLED production process.
As Samsung Electronics has decided not to carry out OLED TV business, Samsung Display merged development team for large OLEDs with a different team. However it is consistently researching on inkjet printing process technology by operating a research group for small and medium-sized OLEDs. Samsung Display also thought about applying inkjet printing pilot equipment from SEMES, which is a equipment subsidiary of Samsung Electronics, as SEMES supplied it.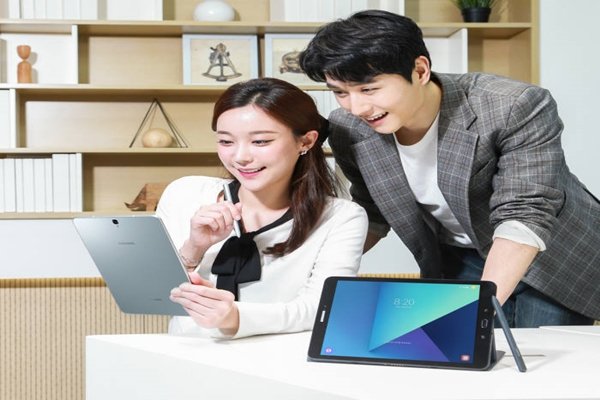 Another reason why Samsung is very active in researching on inkjet printing method is due to JOLED. Last month, JOLED shipped prototype of 21.6-inch medical OLED monitor with 4K resolution that was manufactured through RGB inkjet printing technology. When it starts official mass-production this month according to its plan, it will become the world's first to produce OLED panels through inkjet method. JOLED announced that it has reduced production cost by about 20% compared to previous methods.
JOLED was established in January of 2015 by SONY, Panasonic, INCJ (Innovation Network Corporation of Japan), and JDI (Japan Display). JOLED has combined R&D abilities from SONY and Panasonic on OLED and focused on OLED inkjet printing technology ever since it was established. It also announced its intention to go after markets for medium-sized panels rather than markets for 5-6 inches OLED panels that are pretty much dominated by Samsung Display.
"Because JOLED has its own inkjet printing technology and has started mass-production albeit small amount, it is definitely a threat towards South Korean panel manufacturers." said a representative for an industry.
Inkjet printing technology is a next-generation process technology that prints RGB material that is in a form of solution. Unlike deposition process that applies heat with high temperature to materials that are in a form of powder, it sprays RGB materials onto wanted areas and has high economic feasibility as efficiency of material use is 100%. It is seen as a new technology that will reduce many steps of processes that are needed for deposition and unit cost for producing OLED panels.
Currently inkjet printing technology has a limitation in implementing high resolution of 800ppi from a small panel like a Smartphone. Currently it can only implement about 100ppi of resolution. Industries predict that about 300ppi of resolution can be implemented through panels that are smaller than 30 inches by 2019 as technologies continue to evolve.
"Inkjet printing technology is a must to mass-produce QLED." said a representative for an industry. "Because experiences and knowhow that are gained by Samsung from researching and developing printing OLED in order to gain competitive edge in IT panels can be applied to QLED, it will help Samsung to secure next-generation display technologies."
Staff Reporter Bae, Okjin | withok@etnews.com