LG Display is going to carry out pilot production for inkjet printing OLEDs sometime during first half of 2017. Although it will take another one to two years from pilot production to actual mass-production, it is meaningful in that LG Display has actually in a stage of development after finishing up with R&D. It is heard that China's TCL is also going to start pilot production for inkjet printing OLEDs sometime in 2017 with a goal of mass-producing them in 2018.
According to an industry, LG Display is currently preparing for pilot production of large OLED panels through inkjet printing method to start in first half of 2017. 8th generation OLED panels will be the first ones to go through pilot production.
LG Display is mass-producing 8th generation OLEDs through WOLED (White OLED) method. Although it used yellow (Y) material, which has red and green colors mixed, to implement white (W) color, it has started using '3-stack' structure that uses red, green, and blue colors individually to increase color purity in this year. It has been increasing level of perfection of WOLED technology by supplementing weaknesses such as decrease of color purity through color filters.
LG Display is also consistently carrying out R&D on inkjet printing technology that is seen as one of future display technologies. Because structures can become complicated due to increase in number of OLED layers such as emissive layer and transport layer in order to increase efficiency of WOLED, this can bring burden to panel manufacturers in material cost and high level of technical difficulty.
Inkjet printing technology does not deposit powder-type OLED materials with heat, but it sprays materials that liquefied from printing nozzles. Efficiency in material use is close to 100% as materials are sprayed onto needed parts and there are almost no unused materials. Cost in components can be reduced as overall number of production process is reduced as deposition process is eliminated and as major components such as color filters do not have to be used.
Above all, most of industries agree that inkjet printing method is the most efficient way to produce large OLEDs that are greater than 8th generation at low cost. Because number of demands for TVs larger than 60 inches is increasing, panel manufacturers are all starting to produce more of large LCD and OLED panels.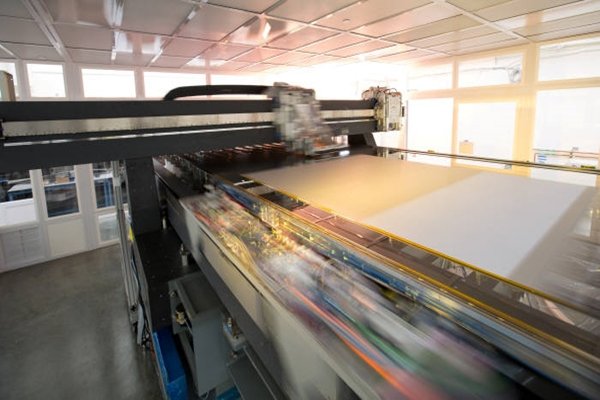 As Chinese panel manufacturers have invested into 10.5th generation and 11th generation panels, LG Display needs to compete against large LCD panels with its experience in mas-producing large OLEDs. Although OLED panels are solidified in markets for premium TVs, LG Display can be pushed back in competitions for price if Chinese panel manufacturers begin to produce large LCDs with high quality from their lines that are higher than 10th generation in 2019. LG Display needs to secure competitive edge in price that can accommodate consumers.
Due to this reason, LG Display needs to lower price of large OLED panel that can compete with Chinese panel manufacturers' LCDs that are bigger than 60 inches. Not only does LG Display need to increase number of production supplies and yields but it also needs to innovate its technologies for production process.
Commercializing inkjet printing technology is seen as the alternative that is most realistic. Many expect that commercialization of inkjet printing technology will reduce price of large OLEDs and become a turning point that will initiate generalization of large OLED panels.
It is heard that China's TCL is also going to operate its pilot line for inkjet printing OLEDs. TCL also established 'Guangdong JUHUA Printing Display Technology', which is a technology open platform business, with Tianme in order to accumulate technologies in variety of fields such as process, materials, and equipment that are related to inkjet printing OLED. CSOT and Tianme, which are TCL's subsidiaries, have 66% and 34% in shares respectively. Although they have lesser experiences in R&D of OLED than South Korean panel manufacturers, their will to grab an upper hand in markets for next-generation inkjet printing OLED is very strong.
"In order to respond to Chinese panel manufacturers' investments into LCD panels that are greater than 10th generation, LG Display need to commercialize 10th generation OLED panels." said a representative for an industry. "As inkjet printing technology is seen as the only alternative, LG Display needs to increase speed of its process of development."
"If price of OLED panels decreases and price gap with LCD gets narrower, not only LG Display can enter markets for premium TVs but it can also enter markets for medium-level TVs." said a same representative. "If OLED TVs replace currently markets for LCD TVs, LG Display will be able to maintain an upper hand in markets steadily."
Staff Reporter Bae, Okjin | withok@etnews.com