LG Innotek (CEO Cheol-dong Jeong) will participate in The International Electronic Circuits and Packaging Show (KPCA show 2022) held at Songdo Convensia in Incheon from the 21st to the 23rd, and introduce new substrate materials.

'KPCA show 2022' is an international exhibition specializing in PCB and semiconductor packaging hosted by the Korea PCB and Korea Electronics Packaging and Circuits Association (KPCA). 180 domestic and foreign companies will participate and share the latest technology trends.

CEO of LG Innotek, Cheol-dong Jeong, who is also in charge of the KPCA, will open the ceremony with an opening address.

LG Innotek will unveil innovative products in three areas at the exhibition: 'Flip Chip Ball Grid Array (FC-BGA) Substrate', 'Package Substrate', and 'Tape Substrate'.

LG Innotek will unveil its new FC-BGA products for the first time in the FC-BGA substrate zone (field), which are scheduled for mass production in next year. FC-BGA substrate is a semiconductor substrate that connects the semiconductor chip to the main substrate. It is mainly used in central processing units such as PCs and servers, graphic processing units, and communication chipsets.

LG Innotek applied various DX technologies such as AI and digital twin to the FC-BGA development process, which minimized the 'warpage phenomenon (the bending of the substrate from heat and pressure during the manufacturing process)' that can be critical to product performance. The company quickly and accurately found the optimal combination, such as the composition ratio of the substrate circuit material and the design structure, through AI simulation to minimize 'warpage phenomenon'. The strength of LG Innotek is its ability apply this technology to quickly provide the highest performing products to its customers.

LG Innotek can manufacture its FC-BGA substrates in a variety of customers' desired thicknesses, from coreless (removing the core layer of the semiconductor substrate), thin core, and thick core, depending on their application. The coreless technology that was applied to the Radio Frequency System in Package (RF-SiP) substrate was applied to the FC-BGA substrate for the first time in the history of industry.

The package substrate zone (field) showcases semiconductor substrates used for the latest mobile wireless communication front-end modules, application processors, and memories. It will exhibit substrates for flip-chip chip scale package (FCCSP) and chip scale package (CSP) with the world's No. 1 market share substrate, RF-SiP substrate.

LG Innotek has greatly reduced thickness and signal loss particularly for the RF-SiP substrate used for communication semiconductors compared to existing products by applying ultra-precise and high-integration technologies, such as microcircuits and coreless, and new materials. This would not only allow to design the interior space of a smartphone more efficiently, but also to maximize the transmission efficiency of 5G communication signals when using the RF-SiP substrate.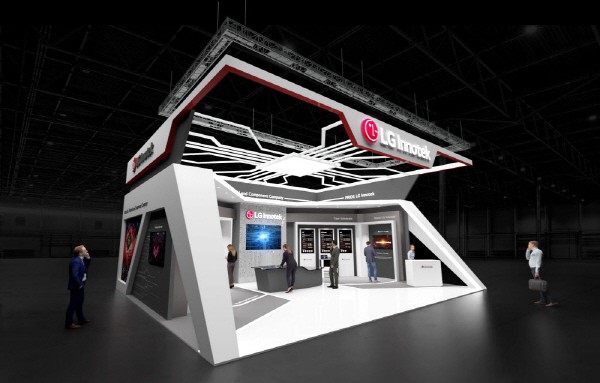 LG Innotek will showcase 2 Metal Chip On Film (2Metal COF) and CHIP ON BOARD (COB) along with the world's No. 1 market share product Chip On Film (COF) in the Tape Substrate zone (field).

The COF and 2 Metal COF are used to connect the main substrate and display panels of smartphones and TVs, and COB is used for credit cards and passports. LG inntoek applied its unique and ultra-fine process to COF among the products. Due to its suitability for high-resolution and thin bezel displays, the COF has a rapid and increasing in demand not only for LCD but also for OLED.

Gil-dong Son, managing director of the substrate material business division, said, "We will rapidly expand the substrate material business field from mobile and display to PC/server, communication/network, metaverse, and vehicles based on our global market leadership capabilities. We will also continue to introduce new substrate materials for innovative customer experiences."

By Staff Reporter So-ra Park (srpark@etnews.com)