Developing GaN semiconductors under 200V
The semiconductors for mobile, lidar, and IoT devices
Mass production of high-voltage GaN semiconductor technology, etc.
Diversify profit channels by expanding
A-Pro Semicon develops low-voltage gallium nitride (GaN) semiconductors. It successfully secured mass production technology by stabilizing the production yield of high voltage GaN semiconductors, and secured a new product portfolio. A-Pro is a spun-off company established in 2020 from the semiconductor division of A-Pro that was a secondary battery activation process equipment company.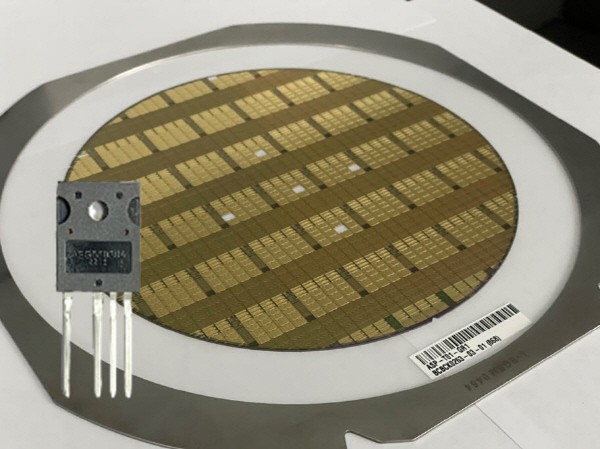 On the 16th, A-Pro Semicon announced that it has started developing a project for GaN semiconductors with low voltage of 200V or less. GaN is in the spotlight as a next-generation power semiconductor material for its excellent high voltage and high heat resistance compared to silicon semiconductors. A-Pro Semicon has succeeded in stabilizing the yield of 650V-high-voltage GaN semiconductors with an 8-inch epitaxial wafer this year. Additionally expanding the product range to low-voltage semiconductors will broaden its market base.

The target for A-Pro's low-voltage GaN semiconductors are mobile, LiDAR, Internet of Things (IoT) devices, small home appliances, and wireless charging. Existing high-voltage GaN semiconductors are supplied to secondary battery activation process equipment. A-Pro's strategy is to maximize the synergy effect between its battery equipment and power semiconductors. This allows A-Pro to not only internalize A-Pro semicons, but also target the market independently by securing low-voltage products. A-Pro Semicon anticipates low-power GaN semiconductors to be a catalyst to its new growth.

A-Pro Semicon was able to develop new product with its rapid accumulation of GaN semiconductor technologies. It introduced 'Metal Organic Chemical Vapor Deposition (MOCVD),' which is the first 8 inch epitaxial wafer mass production equipment in South Korea last year. MOCVD has been operating since last year, and has quickly established a stable track in its yield. Epitaxial wafer thickness and doping uniformity are important factors to improve GaN semiconductor performance. The company achieved 99% uniformity and reached the global standard. It also achieved a voltage close to 1000V, which is essential for the development of high-voltage power semiconductors. A-Pro Semicon said, "The time invested in R&D will not be as long as diversification of our products based on previously developed technologies."

A-Pro Semicon is diversifying profit channels through continuous mass production of high-voltage GaN semiconductors and the development of new products such as low-voltage GaN semiconductors. The GaN semiconductor market is rapidly growing due to its diverse application fields such as automobiles and renewable energy. According to a market research firm, MarketsandMarkets, the GaN semiconductor market is expected to grow from last year's $19.4 billion to $ 24.9 billion in 2026.

The company will start raising funds directly when the expansion of product portfolio is completed. It will increase the size of its business by raising investment. An official from A-Pro said, "We are conducting the evaluation of products and developing new products simultaneously in order to enter the market quickly. We are actively pursuing to become the semiconductor business that can become the best company in the power industry and enhance corporate values."

[A-Pro Semicon main accomplishment]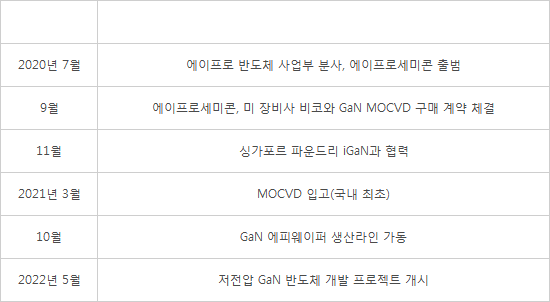 By Staff Reporter Dongjun Kwon (djkwon@etnews.com)