Competition overheated mainly online to achieve early results before the Lunar New Year
Taking advantage of the absence of Phoneparazzi... Concerns deepening for the Galaxy S22 unpacked next month
The

Samsung Electronics' foldable smartphone, the Galaxy Z Flip 3 has become to a 'free phone'. It is the first time since its launch in August of last year that the cash payment price with illegal subsidy became 'KRW 0'. Analysts say that ahead of the Lunar New Year holiday, online stores are showing signs of overheating competition to secure earnings.

According to the mobile phone distribution industry on the 17th, the sales policy for the Galaxy Z Flip 3 'free phone' was lifted first in shrines such as Daegu and Gyeongbuk last weekend, and then spread sequentially to Seoul and the metropolitan area. It is a condition of subscribing to a KRW 90,000 rate plan after transferring the number to a specific carrier.

The regular factory price of the Galaxy Z Flip 3 is KRW 1,254,000, and based on the KRW 90,000 price plan, the carrier's publicly announced subsidy of KRW 500,000. This means that more than KRW 700,000 in excess subsidy has been set in order to set the cash payment price to 'KRW 0'. In addition, there are places where you can purchase the Galaxy S21 for 'KRW 0' and the Galaxy Z Fold 3 KRW 560,000, which was just opened box, never used.

The reason why online shrines and others have been aggressively operating illegally from the beginning of the year is to secure results early in light of the business vacancy during the holidays at the end of this month. As the unveiling of Samsung Electronics' new flagship smartphone, the Galaxy S22 series, is expected early next month, it is also interpreted to get rid of stocks of past models.

The incentive payment transparency system introduced last year by the three mobile carriers to prevent the recurrence of violations of the Mobile Terminal Distribution Act is still not having much effect. The computer is linked up to the official dealership, and it is ineffective in detecting or blocking the incentives (rebates) into illegal subsidies at the other stores.

The 'reward for reporting unfair actions on mobile phones' (Phoneparazzi) also ceased operation as of November last year, causing a considerable gap in market management and supervision. The Korea Communications Commission's 'Mobile Terminal Distribution Investigation Team', which is in charge of managing the distribution network, is physically difficult to crack down on illegal business activities that occur nationwide as the organization is reduced to a team size.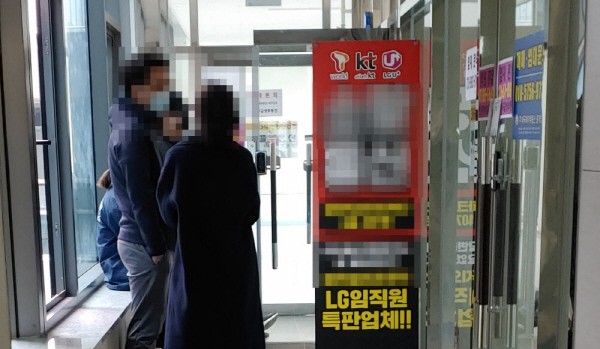 The industry is concerned that after the Galaxy S22 series global unpacked, overheated competition with high-level illegal subsidies from the pre-order period will intensify. As manufacturing costs are expected to rise due to a supply shortage of parts, it is expected that the consumption will increase, depending on illegal subsidies.

The Korea Communications Commission first requested mobile carriers to plan an implementation plan for expanding and applying the incentive payment transparency system to retail stores. In the future, if it is not properly implemented, aggravated punishment will be considered. In addition, they plan to operate a regular investigation system to fill the gaps in the operation of Phoneparazzi.

An official from the Korea Communications Commission said, "The management and supervision function is partially weakened in the process of system change due to changes in the market environment. Demand responsible measures from mobile carriers and prepare supplementary measures such as a regular investigation system so that market order can be maintained.

By Staff Reporter Jeong-eun Park (jepark@etnews.com)