Reasons why Samsung, Apple are raising their shipping target
Overseas plant operation rate is close to 90%
Huawei falters in the aftermath of U.S. sanctions
Both companies focusing on production... Ta
As Samsung Electronics and Apple raised their smartphone shipments target by 25-30% next year, expectations for a "smartphone big cycle" have increased. This is virtually the first time since the early days of smartphones that a high growth target of 25% or more has been set. It is also expected that smartphone parts makers, which have been eliminated from the "1 trillion won club" due to low sales this year, will revive. The biggest reason Samsung and Apple have raised their targets for next year is that the easing of supply and demand difficulties for parts has become visible. These companies had difficulty in production this year due to the lack of supply. As unit prices of parts rose and delivery dates were delayed, it was the first time that overseas production plants were shut down. Samsung, in particular, had a hard time shutting down its Vietnamese plant.

But the tables have been turned. The factory operation rate, which was less than 80% due to the elimination of supply and demand difficulties for parts, approached 90%. In the parts industry, some companies are planning production next year by raising the level of parts inventory. Although there are still variables due to the influence of COVID-19, the prevailing prediction is that supply and demand difficulties for parts will be resolved next year. If supply and demand of parts settle down, smartphone sales will be able to grow to the level before COVID-19.

Some analysts say it is a strategy to fill the absence of Huawei, which has seen its market share drop significantly. Huawei's market share fell sharply to 8% in the aftermath of U.S. sanctions in the global market last year. On the other hand, Apple rose to the top of the Chinese smartphone market for the first time in six years. Samsung Electronics is focusing on expanding its market share of Galaxy A, a mid- to low-end smartphone, focusing on next year's growth market. In other words, Samsung and Apple have focused on production over Huawei's absence, raising their targets.

As the vaccination rate increases, offline marketing is also strengthened. Although the Omicron variant has emerged as the biggest variable, offline marketing and promotional activities are expected to be more active next year than this year. When offline marketing resumes, active sales encouragement will also be possible. The parts industry is also expected to benefit. Major camera module companies are expected to surpass 1 trillion won in sales, and a series of new "1 trillion won clubs" are expected on semiconductor substrates.

Prudence is also raised. This is because it is unusual for the smartphone market to grow more than double digits even if the impact of COVID-19 is minimized. Won-bin Hong, a Professor of Electrical Engineering at POSTECH, said on the 5th, "Global large parts manufacturers are also predicting double-digit growth next year, especially in the North American market, 5G smartphones will show double-digit growth." However, it is difficult to say that there is a clear positive factor that can show a double-digit growth throughout the smartphone market, so a cautious approach is needed, he said.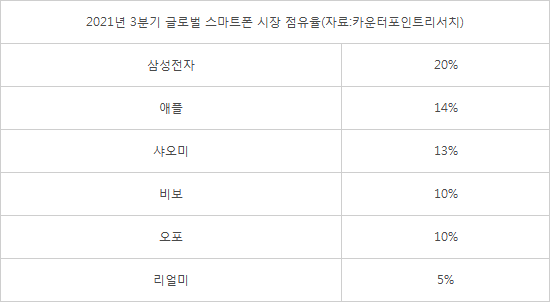 By Staff Reporter So-ra Park (srpark@etnews.com), By Staff Reporter Jung-eun Park (jepark@etnews.com)