'Nano Korea 2021', which opened at COEX in Ilsan on the 7th, was a professional international exhibition that successfully displayed the importance and potential of nanotechnology.
Nanotechnology has presented the basis and solution for the development of Korea's flagship products to the next generation, such as semiconductors, batteries, and displays. It is also possible to find a solution for an eco-friendly era in nanotechnology.

◇Nanotechnology determines battery performance

With the advent of the electric vehicle era, battery performance improvement has become an important topic. This is because the technology that guarantees the most efficient battery performance becomes the most competitive player in finished vehicle market. In Nano Korea, new materials were introduced that can maximize battery performance.

JEIO drew attention by introducing its own carbon nanotube (CNT). CNT is a new material that helps with the flow of electricity and electrons. It has high strength, elasticity, and conductivity compared to existing materials, so it can be applied to various industries.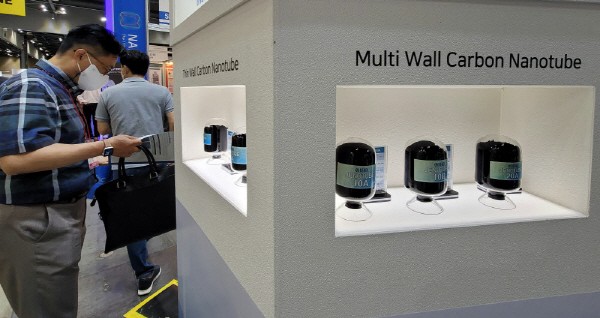 Capacity, lifespan, and charging speed can be solved when using CNTs in batteries. However, the volume of the battery may expand.Jeio developed the world's first 'TW (Thin-Wall) CNT' to solve this volume expansion issue. This technology's characteristic is that it can be applied to anode and cathode materials for electric vehicle batteries while improving lithium battery energy capacity and charging speed by 10%.

Nano Solution introduced 'SW (Single-Wall/SW)' CNT technology that can be applied to anode materials. Although Russia's OCSiAlis known for the world's largest manufacturing capacity for SW CNT, Nano Solution has secured SW CNT manufacturing technology applicable in rapidly growing silicon anode materials and additive technology such as coating solution.

In addition, CNT-related silver-coated copper nanowire technology and functional composite materials developed by CNT solution and Veoneer are being used in electric vehicle batteries field.

◇First time displaying Samsung's LiDAR sensor

Samsung Electronics and LG Electronics, the global companies representing Korea, also unveiled various nano-related technologies at Nano Korea.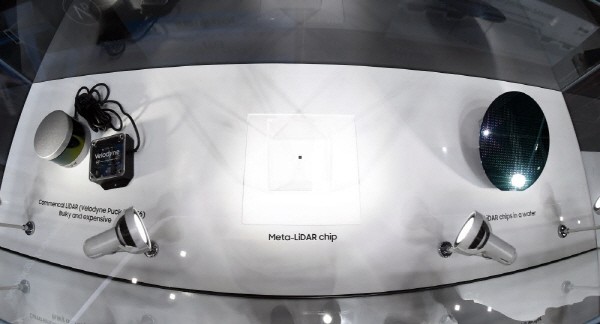 Samsung Electronics drew attention by unveiling the LiDAR sensor. This sensor is a semiconductor that uses a laser beam to shape the surrounding environment into a three-dimensional (D) image. It plays a key role in recognizing the surroundings of the car that it is known as the 'eyes of autonomous vehicles'.

This is the first time that Samsung's LiDARsensor has been displayed publicly. The development is led by Samsung Advanced Institute of Technology (SAIT). SAIT is a research and development center for next-generation technologies, and it is understood that Samsung is focusing on commercializing it's LiDAR sensors.

The Samsung LiDAR sensor, which was released, was introduced that it is able to measure objects up to 5 meters.Samsung shared that it aims to measure 100m within five years, and plans to lower the price to less than 50,000 won.

A company official said, "The current LiDAR system has to be mounted like an antenna on the top or in front of the vehicle, and it costs 40 million won. We are conducting a research to replace this with an ultra small sensor."

Samsung Electronics also introduced 3-nano semiconductors, high-performance 5-nano smartphone application processors (AP), and ultra-fast memory.

LG Electronics introduced the nation's largest MW (Multi Wall) CNT technology and nanotechnology focusing on graphene materials. MW CNT is a material being mass-produced by LG Energy Solution. It is used for cathode materials in electric vehicle batteries that LG Energy Solutions supplies to automakers.

Graphene has secured mass-production technology while improving its quality through large-area chemical vapor deposition(CVD)vacuum deposition and roll-to-roll methods.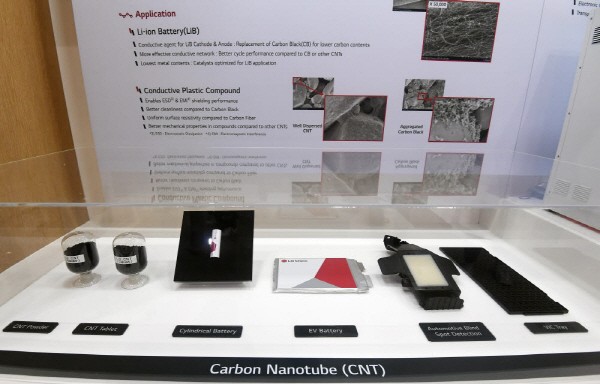 A company official said, "LG Energy Solutions will continue to increase the supply of MW CNTs for cathode materials in batteriesas the world's largest battery manufacturer."

◇Implementing eco-friendly nano technology

Hansol Paper introduced the technology to mass-produce nanocellulose for the first time in Korea, which is considered a next-generation eco-friendly nano material. Nano cellulose is a polymer material that decomposes cellulose from an eco-friendly wood component to a nano level. Although it weighs only one-fifth of that of iron, it is five times stronger. And being eco-friendly attracts attention and show a growth potential.

In 2010, Hansol Paper focused on investing in the development of nanocellulose from pulp, a raw material for paper, and established a production system in 2018. By producing nano cellulose, the application of nano cellulose is being expanded to reduce the weight of tires and improve abrasion resistance, and to improve the strength and weight of automobile parts

Nano-based technologies from materials, parts and equipment companies also stood out. Nano milling companies, such as nano pulverizers, dispersing equipment, electron microscopes, and atomic force microscopes, have displayed related technologies by materializing various equipment that is the basis for manufacturing new nano materials.

In addition, the Electronics and Telecommunications Research Institute (ETRI), the Nano Convergence 2020 Foundation, and the Korea Institute of Science and Technology (KiST) attracted attention by displaying nano technology applied batteries, displays, and semiconductor nano materials.

By Staff Reporter Ji-woong Kim
(jw0316@etnews.com)