Semiconductor foundries and post-processing companies in Taiwan and the United States will set out on large-scale investments in advanced semiconductor packaging technology and infrastructure. This is as a response to the rapid increase in demand for high performance, high density, and low power consumption of IT devices centered on the 5th generation (5G) mobile communication. On the other hand, there are voices of concern about the relatively insufficient investment in advanced packaging in Korea, pointing out that it is urgent to secure competitiveness in the high-tech packaging market, which is growing rapidly.
On June 20, it was reported that ASE, a semiconductor back-end process company, and TSMC, a foundry, will invest heavily in advanced packaging processes such as wafer-level packaging (WLP) and panel-level packaging (PLP) including fan-out (FO) technology.

ASE, the world's No. 1 company in pure semiconductor post-processing (OAST), has recently started investing in advanced packaging facilities in response to the supply and demand shortage of semiconductors. Recently, it is accelerating its expansion by purchasing a large amount of semiconductor manufacturing equipment for WLP and PLP processes from HANMI Semiconductor. TSMC also announced an investment of $15 billion in advanced packaging processing last year and is pushing to establish a plant in Japan. It holds the largest share (66.9%) in the fan-out packaging market.

Intel, which declared re-entry into the foundry business, will also invest $3.5 billion in New Mexico this year to build a semiconductor packaging plant, aiming to start operation in the second half of 2022.

The investment in advanced packaging by Taiwanese and U.S. semiconductor companies is analyzed to be a response to the growth of demand for semiconductors and for higher performance of IT devices. Fan out, one of the most advanced packaging technologies, can increase the number of I/Os and enhance electrical performance and thermal efficiency by arranging semiconductor input/output terminals outside the chip. Demand is also increasing in chips for 5G, where signal processing is increased, and power management semiconductors (PMICs), where heat control is important.
In response to Long Term Evolution (LTE), the number of chips applied with advanced packaging technologies such as fan-out will increase by 15-20% in 5G smart phones, according to the industry.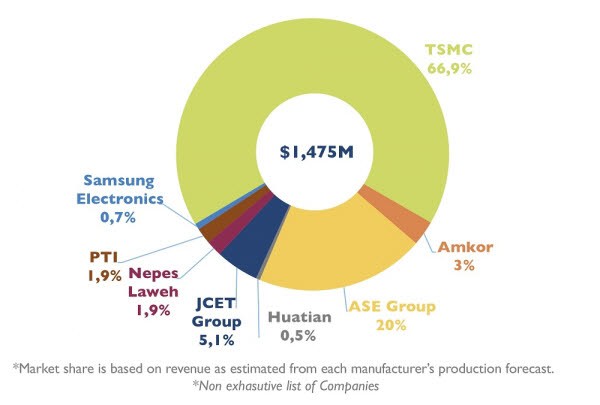 High market growth is also driving investment. According to market research firm Yole Development, the fan-out packaging market was $1.475 billion last year and is expected to reach $3.425 billion by 2026, growing at a CAGR of 15.1%. This means that the market will grow more than twice as large as it is now.

Although advanced packaging is becoming more important day by day, it is pointed out that South Korea has relatively low competitiveness. Among domestic companies, Samsung Electronics and Nepes conduct WLP and PLP businesses, including fan-out. Other semiconductor post-processing firms are still focusing on old processes such as wire bonding.

Nepes invested 200 billion won in mass production of fan-out packages in 2019 to secure competitiveness, but it still has a low global market share. In the 2020 fan-out packaging market share analyzed by Yole Development, Nepes (Rawe) has 1.9% and Samsung Electronics 0.7%. South Korea's market share is less than 3%, far behind TSMC (66.9%) and ASE (20%).

Having recognized the importance of advanced packaging technology, the Korean government is working on a project to build an 'Advanced Packaging Platform' next year and will apply for a preliminary feasibility study in the second half of this year.

However, the industry agrees that large-scale investment is urgent, considering the weak economy of scale compared to competing firms or countries. This is due to concerns of following the path of TSMC bringing Apple's application processor (AP) manufacturing from Samsung in 2016 with fan-out packaging technology.

An official from a semiconductor post-processing company said, "The next-generation semiconductor technology based on the advanced packaging process is rapidly emerging as a future driver since can maximize the performance of IT devices. We need to rapidly secure competitiveness in this technology because it can play a key supply chain role in the foundry ecosystem."

By Staff Reporter Dong-jun Kwon (djkwon@etnews.com)