The South Korean government initiates a program to train women in software (SW) industry who will lead the digital transformation. Despite the stagnant job market due to COVID-19, the government supports participants of the program to successfully be employed by IT conglomerates and promising start-ups, and prepares them for social advancement.

The Ministry of Science and Information Communication Technology (MSIT) and the National Information Society Agency (NIA) are providing "Data IT Girls 5th (DAIT Girls)", a data analysis course, and "Coduace", an artificial intelligence (AI) and SW expert course. They are accepting applications until the 13th.

MSIT and NIA have been operating SW education course that focuses on continual growth of the SW industry and social advancements for female talents since 2016. The graduates of DAIT Girls 4th's employment rate was over 70%.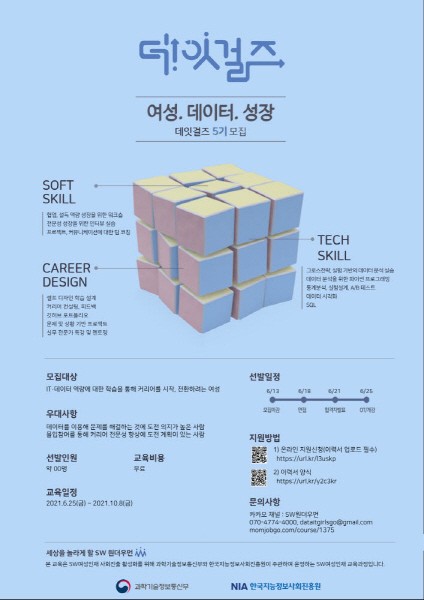 DAIT Girls refers to women with expertise in data and IT fields. It is a program that help women to be equipped with data-based skills.

The intended participants are women who are currently unemployed, but hope to find employment or start a business through IT and data learning, regardless of their major. Participants must be able to participate the full-time classes, 5 days a week during the training period. The curriculum includes tech skills, career design with expert mentoring, agile workshops, and project coaching.

Coduace is a SW instructor training course. It corresponds with the AI national strategy, and focuses on improving SW/AI curriculum design capabilities and training education technology online and offline.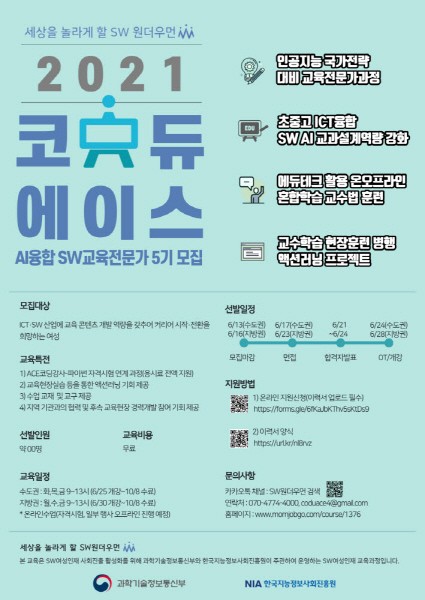 Both DAIT Girls and Coduace are online courses. They are real-time interactive classes via video calls. There are content-based classes where trainers give feedback after listening to a recorded lecture, and project-oriented classes where students initiate self-directed projects.

The latter half of the training course has "8th SW Welcomes Girls", which is an event that provides an opportunity to network and spread awareness of female talent in SW industry. Detailed course information and schedule can be found in "SW Wonder Woman" on KakaoTalk Channel and Facebook.

All courses, including the training and the raising-awareness event, are free. 160 hours of training fees, textbooks, materials are provided free of charge. AI/ Python certification exams are provided free of charge as well. Apply with QR code on recruitment posters of DAIT Girls and Coduace.

MSIT and NIA will continue to support women in SW industry in the digital transformation era. They also promote various policies and projects to spread awareness women in SW industry and expand the program.

By Staff Reporter Dain Oh (ohdain@etnews.com)