Samsung Electronics' smartphone partners are faltering. The stagnant sales in Samsung's smartphone have led to the marked deterioration of the performance of parts makers. Even camera parts suppliers, which have been enjoying growth due to the popularity of multi-cameras, are beginning to undergo industry restructuring as the situation exacerbates.
According to analysis results on the1Q in 2021 for 15 major suppliers of Samsung Electronics' smartphone parts, Electronic Times found that only 4 companies including Partron, INTOPS, Chemtronics, and Sekonix saw increase in both sales and business profit compared to the same period last year. In terms of sales growth, 6 companies showed an increase in their revenue while 5 companies had a rise in their business profit.
In contrast, a total of 10 companies experienced a decrease in business profit or continued losses. There were 9 companies with reduced sales and 10 with reduced business profit or continued losses. All together, about 67% of the total recorded negative growth compared to the first quarter of last year.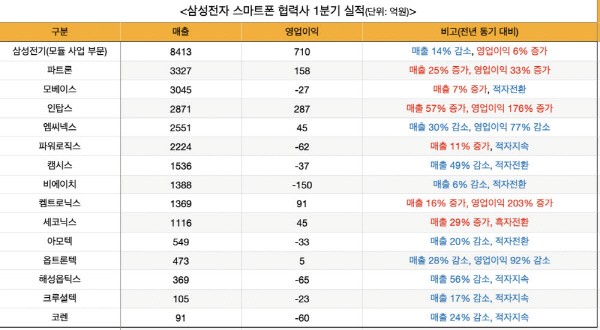 For Samsung Electronics' smartphone parts suppliers, the first quarter of every year has been regarded as the 'peak season', because flagship smartphones such as the Galaxy S series are mostly released during that time. Nonetheless, the reason for the poor performance of many suppliers is the stagnant sales of Samsung's strategic phone sales compared to before.
According to market research firm Counterpoint Research, Apple's iPhone ranked first to fourth in sales among the top 5 best-selling smartphones in the world in 1Q of this year, while Galaxy S21 Ultra 5G model of Samsung Electronics barely managed to take 5thplace--this is only in terms of sales volume. As for sales, Galaxy S21 did not even make it into top 10; even as a latest product just launched in the market, it has not been well received among consumers. Rather, low-end models such as the Galaxy A series made it to the top 10.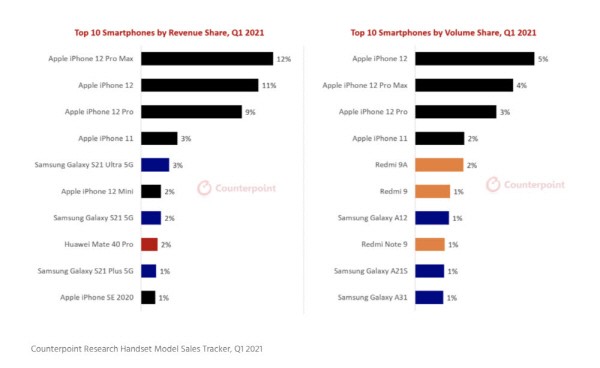 The sluggish sales of Samsung's premium phones and the expansion of mid- to low-end models are unwelcome news for the parts industry. This is because the parts prices are low for mid-to-low priced phones that prioritize on lowering the price, while the rise in premium phones can increase demand for high-performance parts and profitability. While the higher volume of mid- to low-end phones may alleviate this issue, the global smartphone market is currently stagnant. It is analyzed that the intensifying pressures to cut unit prices are leading to decline in suppliers' performances due to limited demand and fierce market competition.
An official from a camera parts maker said on June 3 that, "The margin rate for camera modules was in the high single digit range until last year, but recently it is falling to the low single digit. It is no exaggeration to say that companies are having chicken game among them." In fact, the camera parts industry that used to show growth is also vacillating with the rising popularity of multi-cameras. Haesung Optics has decided to withdraw from the camera module business, and Kolen, which is specialized in lens production, is also pursuing a new business now while changing its largest shareholder due to continued aggravation in earnings.
Accordingly, the competition for survival is expected to intensify in the domestic smartphone parts industry. This is becauselarge enterprises and small and medium-sized enterprises (SMEs) are overstepping and crossing each of their territories as the market conditions deteriorate. Samsung Electro-Mechanics, which has been supplying camera modules to Samsung Electronics' premium smartphones, is entering the mid-to-low-end market in full-swing this year. In a conference call for announcing its first quarter results, Samsung Electro-Mechanics said that "We've been expanding our supply of low-end camera modules to our strategic customer (Samsung Electronics) from the first quarter of this year. We expect that we'll grow this year's sales highly from the previous year."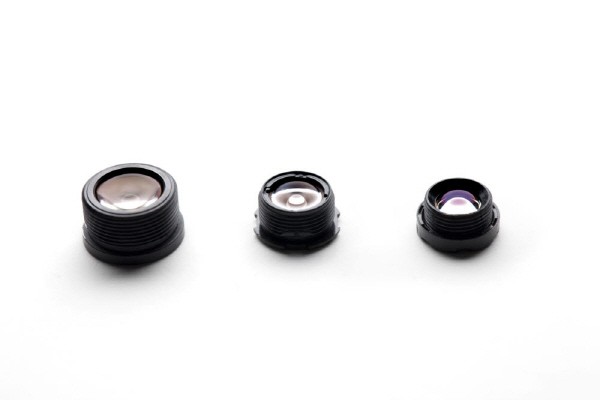 By staff reporter Geon-il Yoon benyun@etnews.com