South Korea's battery industry has been building a strategic cooperative relationship with global automakers. After LG Energy Solution with GM established a joint venture for electric vehicle (EV) batteries, SK Innovation and Ford have agreed to establish a battery manufacturing joint venture. All of these decisions come from shared interests where automakers want stable supply of EV batteries due to expansion of the EV market while South Korean battery makers are trying to secure major customers, and there are likely to be many more alliances between the two industries in the future.
According to the industry on Thursday, SK Innovation has agreed to establish a battery manufacturing joint venture with Ford. The joint venture plans to manufacture pouch-type batteries and is reported to be bigger than the plant (20 GWh) that SK Innovation is currently building in the state of Georgia.
This is the first time that SK Innovation has decided to establish a joint venture with a global automaker based in a country other than China. Ford is the second biggest automaker in the United States and it has joined hands with SK Innovation in order to successfully transition to EV business while doing away with internal combustion engine-based cars.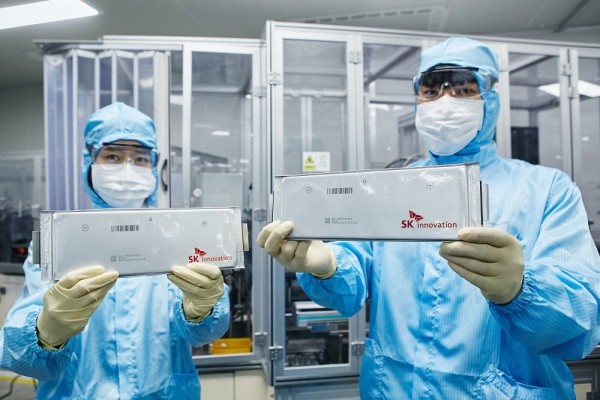 Ford has decided to invest $22 billion for this transition until 2025 and is working on securing core technologies. It has decided to establish a joint venture with SK Innovation in order to secure technologies for EV batteries that power EVs.
CEO Jim Farley of Ford made a statement during a recent conference call that the company is making motor and battery management software and that the company is now focusing on stable production of battery cells.
Prior to SK Innovation deciding to establish a joint venture with Ford, LG Energy Solution established a joint venture (Ultium Cells) with GM. The two companies are currently building a 35 GWh battery manufacturing plant in Ohio and announced in April that they would build their second joint manufacturing plant in Tennessee. They plan to secure a total of 70 GWh production capacity by 2024 through their two plants by 2024. The capacity is able to manufacture one million high-performance EVs that have a range of 500 kilometers with single charge.
South Korean battery makers have been supplying their batteries to global automakers by building plants in major EV markets such as the United States, China, and Europe. However, they have started to push for joint ventures with global automakers as it has become necessary for them to establish a closer 'strategic cooperative relationship' with automakers.
Securing EV batteries has emerged as an urgent task for the auto industry. The global EV market is expected to grow at a rapid rate as many countries have been implementing policies to protect the environment. However, lack of supply of batteries has been a concern for the market. A market research company SNE Research predicted that demands for batteries will exceed supply of batteries by 7% starting from 2023 and that the percentage will become higher in 2025.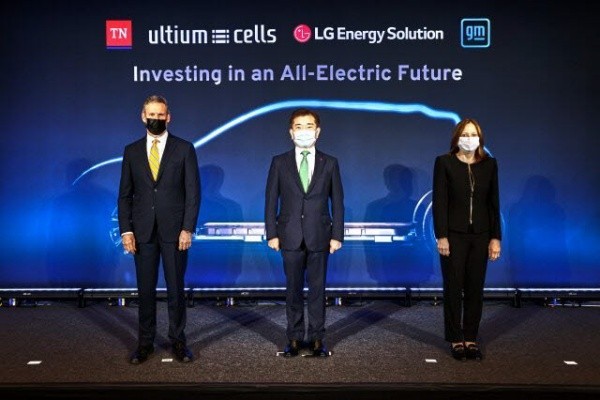 By establishing a joint venture with an automaker, battery makers are able to lessen financial burden from investment and secure a stable customer as well. Because battery makers can also look to work with automakers in other businesses other than batteries, number of joint ventures established between automakers and battery makers is expected to increase continuously.
It will be interesting to see whether there will be another partnership between a South Korean battery maker and a global automaker. So far, Panasonic has established joint ventures with Tesla and Toyota. An European battery maker Northvolt has established a joint venture with Volkswagen. However, because GM and Ford have established joint ventures with South Korean battery makers and some joint ventures established between foreign battery makers and automakers have reportedly been facing issues with their production, there is growing possibility of new partnerships between South Korean battery makers and global automakers. Particularly, Samsung SDI that had been taking careful approach towards building additional facilities has been accelerating the process of expanding its plants in Europe and looking into investing in the United States. As a result, the industry is paying attention to whether a partnership will form between Samsung SDI and a global automaker.
A representative from a South Korean battery maker said that battery production requires many hours of research and development and knowhow in mass-production and that automakers will have no choice but to maintain their partnerships with battery makers even though they are looking to internalize batteries.
Staff Reporter Kim, Jiwoong | jw0316@etnews.com & Staff Reporter Yun, Geonil | benyun@etnews.com